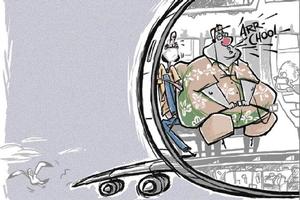 If you see someone else's name and caricature in this space next week it will be because I caught a nasty virus from the woman who coughed, sneezed and snuffled all over me during the whole of a flight from Auckland to Wellington.
I know people can't help getting sick and would not travel in such a state if they could possibly avoid it, but I still felt deeply resentful at her germ-ridden presence.
It is amazing that - despite how thoroughly the airlines reckon they filter the air - almost invariably after a long flight I end up, at best, with sinus trouble and, at worst, with a dose of flu.
I don't have a sore throat yet, and that's usually the first indicator, but after all the germs I must have swallowed I won't be at all surprised if there's a bit of a tickle there tomorrow morning.
Of course, although moaning about my personal Typhoid Mary has temporarily helped me feel better, and might have a few readers nodding in agreement, it doesn't really achieve much.
It would be a lot more useful if I could come up with a practical suggestion for reducing the risk of infection. And I think I can.
There are quite a few products you can take that are said to combat the likelihood of catching some viruses when you fly. Personally I prefer the homemade spray my wife knocks up with boiled water, salt and manuka oil which really seems to help.
But I've got an even better idea. The inspiration for it came when a colleague of an intemperate nature repeated his longstanding view that anyone who flies with the flu should have a plastic bag put over their head.
Why, I thought, couldn't airlines stock their planes with - no, not plastic bags, appealing though it sometimes seems - face masks to be issued to any passengers who are coughing and spluttering so they can keep their germs to themselves.
If the Typhoid Mary or Martin refused to use the mask the flight crew could then offer them to all the people sitting nearby, partly by way of protection, but also as a powerful signal of disapproval. I reckon that's a smart idea. What do you think?