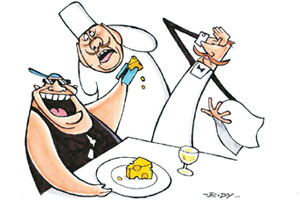 The old spirit of New Zealand ingenuity, of being able to build anything from a Large Hadron Collider to a small vacuum cleaner with No.8 fencing wire, lives on in the imaginative Kiwi traveller.
For proof, consider this message sent from France by Phillip Guthrie:
"I'm not usually the sort to write in and compliment companies on their products - usually the complete opposite, especially when it comes to airlines - but in this case I felt I had to write to congratulate Air New Zealand on their fantastic Airpoints card.
"My Airpoints card has bailed me out of three incredibly tight spots while studying in Europe over the last two months. Take today in Lille, for example, just as I was about to tuck into my wonderful supermarket purchased couscous salad, I realised that I had not been provided with a plastic fork or spoon, not even one of the teeny, tiny jobbies usually found inside the package. Obviously some Gallic joke at a poor foreigner's expense (or more likely the consequence of shopping at one of those dodgy French discount supermarkets).
"So, finding myself in this difficult bind and not wanting to stoop to eating with my fingers, where else did I head but to my favourite multipurpose travelling tool, my Jade Air New Zealand Airpoints card, easily the most hygienic and easy-to-clean card in my wallet.
"So far in Europe it has also been used to cut pecorino and porchetta in Chianti, spread Nutella on insanely hard bread in Siena, and evenly distribute garlic aioli across piping hot pommes frites in Bruges - truly a tantalisingly tasty trio if ever there was one.
"The card is a brilliant piece of design, so brilliant, in fact, it must have been designed in Switzerland by the same people that make those cool pocket knives that security keeps taking off me at the airport.
"The lack of sharp corners makes it ideal for use as a spoon, while the easy-to-clean plastic surface means it stays relatively sterile during storage in one's pocket. The clear strip allows the food to be illuminated from below, kind of like a microscope, so one can be certain of what one is eating.
"Also, thanks to Air New Zealand's astronomical international airfares, I am not often able to use the card for its intended purpose, meaning that, unlike other cards in my wallet, it is rarely touched by other people, lessening the chance for me to contract viruses and other nasties.
"I do not mean to denigrate Air New Zealand, quite the opposite, and I am certain that if the company has put as much thought into its inflight service as its airpoints card, that will be truly excellent also.
"I thought I should draw attention to this stunning triumph should Air New Zealand wish to celebrate the success of its airpoints card in its next annual report. Or possibly they could start a 'places-my-airpoints-card-has-bailed-me-out-of' PR campaign, which I would be more than happy to enter."
What a brilliant idea.