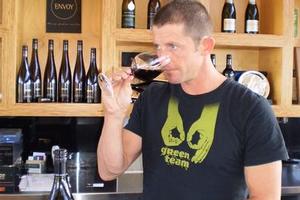 Did you know that wine tastes different in the air? So that glass of sauvignon blanc you savour at home might be a bit too acidic at 10,000m. And a nice cabernet sauvignon you lick your lips over when it's served on the plane could seem a bit overpowering when you get back down to earth.
I discovered this when looking into the latest Cellars in the Sky awards, run by the British-based Business Traveller magazine, in which New Zealand wines again did quite well.
The most successful of our airborne wines was the Spy Valley Marlborough Pinot Noir 2007, served by Cathay Pacific, which was selected as the best red wine in business class ahead of some pretty impressive opposition from the great wine regions of the world.
Needless to say this doesn't just happen by luck. Local wine consultant Vic Williams, who helps choose the wines for Cathay, explained that selecting the right drop for drinking in the air is quite a tricky business.
The drier air in the cabins, he said, means the tannins and acids often taste a lot stronger up high so you have to select wines with big fruit, mild tannins and balanced acidity.
The tasting sessions at which the wines are chosen are held at ground-level, though they do use the small glasses usually served on planes, so the wine experts have to rely on their experience to pick the right wines. "But," Vic added, "when I'm flying I do make a point of picking wines I've helped select so I can check that they are okay."
Presumably the selections must be good because this is the second year a red served by Cathay has taken the top spot and this year the Hong Kong-based airline also won the award for the best business class cellar while LAN, which also flies to New Zealand, took second place.
Qantas was judged to have the best first class cellar with Cathay Pacific third. Qantas was also judged to have the best-presented wine list while Air NZ's list took second spot.
Of our wines, Air New Zealand's West Brook Marlborough Riesling 2008 was judged fifth best business class white. And the Forrest Marlborough Noble Riesling 2008, also served in Air NZ business class, was third in the best business class fortified or sweet wine.
Even in the rarified atmosphere of first class, our wines rated highly. The Felton Road Pinot Noir 2008 from Central Otago, served by Emirates, took joint second place among the first class reds, and the St Clair Pioneer Block 4 Pinot Noir, from Marlborough, was joint fourth.
Saint Clair did it again with its Pioneer Block 18 Sauvignon Blanc 2008, this time served by Qatar Airways, taking fifth place among the business class whites.
I bet that's a wine that's good both in the air and on the ground.