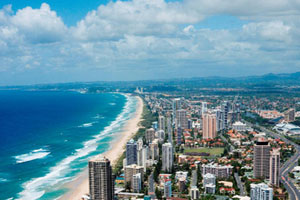 Is Queensland's Gold Coast slipping in its appeal as a Kiwi holiday destination?
That's certainly the signal from all the would-be travellers who use google.co.nz to search for information about places to go.
When Google provided details of the 10 most popular travel-related searches in its New Zealand search engine during 2008, Australia was first, Gold Coast second and Brisbane fifth.
But the figures for 2009, just released, have Australia dropping to second, Gold Coast to ninth and Brisbane has fallen out of the top 10 altogether.
Of course, as the latest departure figures from Statistics NZ confirm, Australia remains by far the most popular destination for New Zealanders, though in the past year the numbers going there have slid by just under 1 per cent.
So if we're not heading for Queensland's golden sands and theme parks where are we going?
If Google searches are anything to go by the Australian spots we find most appealing are Melbourne and Sydney. No great surprise there, you might think, except that in 2008 Sydney didn't feature in the top 10, so perhaps we're getting more interested in restaurants, theatres and art galleries.
When we look for sand and sunshine, it seems, the Pacific Islands are attracting more internet attention than the Gold Coast.
In Google's travel searches for last year Rarotonga came out on top, with Fiji third and Vanuatu sixth. That's borne out by Statistics NZ because the number of people going to the Cook islands last year did rise by nearly 3 per cent.
The other countries we look for information about on Google are India, Thailand and Singapore. Again that's borne out by the actual travel figures, with the number of us heading to both India and Thailand increasing last year.
When it comes to New Zealand travel destinations, Auckland remains the place most Kiwis want travel information about, according to Google, which is what you'd expect.
But the search figures for 2009 also show Wellington, Rotorua and Taupo have dropped out of the top 10 places we find out about on the internet. And supposedly they've been replaced by Dunedin, Palmerston North and Hamilton.
That can't be right, surely? I mean given a choice between holidaying in Taupo or Palmerston North, Rotorua or Hamilton, which would you choose?