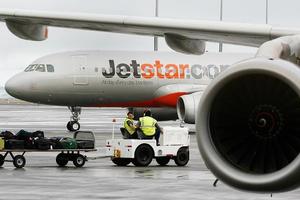 Is it really cheaper to fly on budget airlines by the time you add in any extra charges?
It's hard to give a definitive answer because of all the variables (how much luggage you have, for instance, or whether or not you want an in-flight drink).
But a study done by the electronic aviation industry newsletter Flightpaths suggests the savings aren't as great as they might first appear.
Flightpaths' latest issue studies the busy Perth-Melbourne route where four airlines compete.
It found that on most days Tiger Airways offers the lowest headline fare but adds "many passengers would end up paying more once add-ons were included".
For example, the newsletter says, you could have bought a one-way flight on Tiger Airways on November 18 for A$128 (NZ$161).
But a series of fairly basic add-ons, such as paying for luggage, a meal and drinks, would bring the cost up to A$187.
Using the same parameters it would have cost A$227.50 to fly on Jetstar, Qantas' low-cost subsidiary, and A$214.50 on Virgin Blue.
But if you opted for a full-service airline, namely Qantas, the cost would be just A$208.
Furthermore, Qantas aircraft usually have more legroom than the budget airlines, but if you want to stretch out a little you'll have to pay an extra A$20 on Jetstar, A$25 on Tiger and A$45 on Virgin Blue.
Flightpaths acknowledges that if you didn't want to eat on your Melbourne-Perth flight, which takes about three-and-a-half hours, you would be better off on a budget airline.
But if you do fancy a snack then the difference between flying budget and full-service appears to be minimal. Certainly the study suggests that before choosing your airline it's a good idea to do more than just compare the headline fares. You need to think about whether you may face extra charges for checking in a bag or having a cup of tea en route.
- Jim Eagles

Pictured above: Factoring in refreshments and baggage costs can narrow the gap between budget and full-service prices. Photo / Greg Bowker