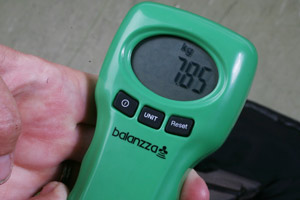 It can be tricky to plan your luggage for a long trip. If you're passing through both hot and cold places it's often hard to pack light. And airline luggage policies vary quite a lot.
On a recent trip to Ecuador, for instance, I happened to be flying LAN Airlines business class which meant I could carry three bags of 23kg each (not that I did). But then for the final leg to the Galapagos islands we flew Tame Airlines and were restricted to one bag weighing 20kg.
Could have been a problem if I hadn't been cunning - and fortunate - enough to keep my one bag under 20kg all along.
Less fortunate was Travel reader Gavin Fortune who has just finished a six-week trip around Europe, enjoying fairly generous luggage allowances from Air New Zealand, Singapore Airlines and Lufthansa, only to suddenly hit a Heathrow-St Petersburg leg on British Airways where he was limited to 23kg of check-in baggage and $80 a bag for excess.
"We take your advice and concentrate on packing light, but that's ridiculous," he said.
"It's really adding to the cost of an airfare by deception. The end result was a huge ruckus, a repack and a commitment never to fly with BA ever again."
A further warning comes from a wire service report that several airlines including Delta, Northwest, American, US Airways and Continental now charge $75 each way for a second checked bag on most transatlantic flights.
So what can you do to avoid that sort of hitch? Sometimes not much.
But one useful tip is to take some portable luggage scales so you know what your bags weigh before you reach the check-in counter.
I've previously written about the Balanza Ergo digital luggage scales ($49.95 from globaltravelproducts.co.nz) and they're worth mentioning again.
Another tip is to carefully check the luggage rules on each airline you'll be using before you set out because they often vary even between different flights by the same airline.
One way to do that is via a new website, luggagelimits.com, which allows users to find the precise luggage policy that applies to their flight.
It has been set up by Luke Dudley, an algebra teacher at an English boarding school, after watching students wrestle with the mysterious world of luggage rules and hidden charges.
"Seeing the students travel to and from school on a regular basis with numerous items of baggage, and at a time when jet fuel and airline hidden fees were rapidly increasing, gave me the idea for an online resource that can help travellers avoid, or at least prepare for, these extra costs."
I've had a play with the site and, while it's not particularly user-friendly, it does provide a one-stop shop for finding out about luggage rules.
For instance, it turns out you can avoid that new second-bag charge with US airlines if you've booked through a codeshare partner.
And if you check in advance at least you'll know that taking all your gear from Heathrow to St Petersburg could set you back $80.
- Jim Eagles
Pictured above: Digital luggage scales may help you avoid costly excess baggage fees. Photo / Glenn Jeffrey