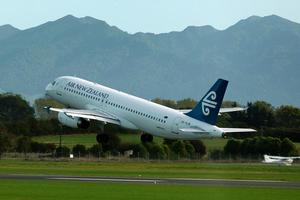 There are two great fears I have about flying.
One is that I'll wind up trapped in a window seat by a guy who weighs 200kg. The other is that there'll be someone nearby who is coughing, sneezing and spluttering with the flu. Both together doesn't bear thinking about.
Of the two, the flu fear is the greatest. Being squeezed against the window may be uncomfortable but it will end. But if you walk off the plane having breathed in some nasty little virus it can wreck your trip.
And it is remarkable how often after a flight I end up with - in ascending order of unpleasantness - a bloody nose, a sinus infection, a cold or flu.
A colleague of a somewhat intemperate nature reckons that anyone who sneezes or coughs on a plane - especially if they sit near him - "should be shot ... or at least have a plastic bag put over their head".
I don't think I'd go that far, especially as I've once or twice had to head off while still a bit congested myself, but the risk of picking up a bug is a big downside of air travel.
So I was highly excited to read in an issue of The Economist magazine about a device called AirManager - developed by Quest International, a small firm which makes equipment to sanitise the air in hospitals, and BAE Systems, a huge aerospace company - said to produce much-improved air quality in planes.
The AirManager's new technology apparently kills 99.999 per cent of pathogens in the air, including bacteria and viruses, in a single pass.
The head of BAE's regional aircraft business reckons that the aircrew of planes fitted with the device noted "a very tangible difference in the quality of air being breathed".
I was so enthusiastic about the prospect of nicer air that I asked Air New Zealand if it was thinking about buying this wonderful device.
The airline replied that the high-efficiency particulate air filters they already use remove 99.99906 per cent of airborne viruses, which is even better than the AirManager.
That's encouraging, but also disappointing because I still end every flight with my sinuses stuffed - in every sense - and I was hoping the AirManager might mean better breathing in the future.
Still, it's good to know that aircraft air is getting cleaner.
And The Economist story offers other reasons to hope. Evidently the fact that both Boeing and Airbus are now building planes with carbon fibre, which is stiffer and not prone to corrosion, means airlines will be able to keep cabins at a higher pressure and leave more moisture in the air.
So maybe one day soon we will be able to walk off the plane after a long flight with the old respiratory system in perfect shape.
Now if the airlines can just find a way to deal with those 200kg passengers...
- Jim Eagles