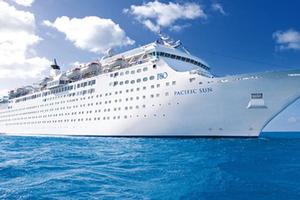 Cruise ships, it has to be acknowledged, have had a bit of bad press of late. So it was with some trepidation, as well as anticipation, that my husband and I made our way towards the Pacific Sun at its berth in Auckland. Would there be rough seas? Would there be some nasty virus infecting the boat?
We needn't have worried. The 10 days we spent on the Pacific Sun were the most relaxing we've had in 10 years.
As soon as we were ushered smoothly through Customs, work deadlines went away, housework disappeared, traffic vanished in a puff of smoke. In their place we discovered a floating haven where all our requests were met with impeccable courtesy and genuine smiles from every staff member aboard, officers to deckhands. It was catching, and soon all the passengers were smiling along at each other too. (My biggest disappointment was to return to Auckland, grin at the ready, only to find too many faces unwilling to beam back.)
The staff were incredibly professional and efficient. Each time we returned to our cabin - left as tidy as we thought it could be - we found the stewards had made it even tidier.
In fact the whole ship was spotless. Hospitality and maintenance staff seemed to work round the clock like shoemaker's elves.
And there were none of those "when-shall-we-eat, what-shall-we-eat, is-there-anything-in-the-cupboards" decisions. There are two sit-down restaurants, a popular buffet (which runs most of the day), a steakhouse and a pizza parlour open until the wee hours. There are bars indoors and outdoors, and the staff soon remember your name - and your tipple.
You can take in as much or as little entertainment as you want, from morning trivia quizzes to full-blown evening show extravaganzas or, if you are in Garbo mode, there are plenty of places to settle down with a book, spread out and get some sun or ponder the splendid isolation of the Pacific.
Children are well-catered-for with clubs for all ages, leaving land-frazzled parents to enjoy quality time together, and older kids can even organise their own dinner at the buffet or pizza shop. Onshore trips are varied and well-managed; passengers are given plenty of warning about getting back to the ship on time (yes, tardy lasses in Noumea, you know who you are ... ); and because we'd all been issued a cruise card, a handy little device that acts as identification and onboard credit card, there was no need to get our passports from the cabin safe to go ashore.
Our 10 days sped by too fast. Of course towards the end we were missing the kids, but we've decided that next trip they are coming with us. And there WILL be a next cruise. We disembarked still carrying a positive glow and had a coffee across from the wharf, gazing wistfully back at the Pacific Sun.
This had been a real holiday - a blood-pressure lowering, shoulder unlocking, calming, restorative break. So you can keep your planes, trains and automobiles. In future, we'll take the ship.
Isobel Marriner