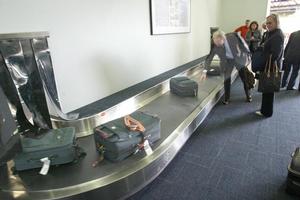 Can anyone explain to me why people behave so stupidly when they're waiting for their luggage to come off the carousel at the airport?
I'm sure you know what I mean.
Most carousels have a line about a metre away and a sign suggesting you keep back at least that far.
If everyone followed that advice the business of collecting luggage would work smoothly. When your suitcase came down the carousel you would have space to step forward, pick it up and retreat without the risk of damaging someone else with your bag. All very civilised.
But what happens if you do stay back behind the line? Immediately some smartly turned out woman with a luggage trolley or a portly man dragging a giant-sized cabin bag on wheels will zip in front of you, barking your shins in the process, completely blocking your access.
As we all know, by the time the bags start trundling down the conveyor belt there is a solid wall of people pushed up against the edge of the carousel.
As a result, when your bag turns up - or a bag belonging to someone else stuck in the rear - it requires a rugby-style drive to get through and collect it and inevitably people and bags collide in the process.
Even when a suitcase belonging to one of the folks in the front row arrives, because they're all so tightly packed together they inevitably bash each other with their bags. It's nuts. Yet we all do it. So why don't we all try standing back to allow room for luggage collection? We know it's the sensible thing.
I'm going to make a resolution to stand back myself ... well, until someone pushes in front of me . .. then it's every man for himself.
- Jim Eagles
Pictured above: Airport bag carousels often bring out the worst in people. Photo / Bay of Plenty Times