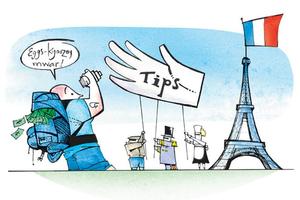 Are Kiwis tight-fisted travellers? Or are we big-spending freewheelers abroad?
The reason I ask is that two recent surveys about our behaviour on the road appear to have painted contrasting pictures.
A media release from Visa, based on the card company's Travel Smart Survey, was headlined, "Kiwis big spenders when travelling overseas".
But a release from Expedia, giving results from the online travel company's Best Tourist Survey, was headed, "Kiwi tourists rank among the most tight-fisted spenders".
So which is it?
The Visa story was based on a survey which asked 2226 people from 11 countries how much they spent on their most recent international trip.
New Zealanders came out on top, with an average spend of US$5588 ($8208) per trip. Australians were second with US$5258. Indians came third at US$3732.
Rather surprisingly, to me anyway, Japanese were towards the bottom of the list, with an average spend of just US$2141.
The Expedia survey, however, involved interviews with 4557 hotel managers around the world asking them to assess their guests.
Their verdict on Kiwis was that we are polite and uncomplaining but lousy tippers, lacking foreign language skills.
The Japanese were seen as the best tourists while the French were both the rudest and the most tight-fisted. Hard to disagree with that.
When you think about it there's not necessarily any contradiction between the two pictures of us: tight-fisted yet big-spending.
On the one hand, it's no great surprise that we spend a lot when we travel overseas, because we have to go a long way to get anywhere foreign. As a result we have to pay a lot for our airfares and we tend to pack a lot into our trips.
On the other hand, I find it entirely believable that we're seen as tight-fisted, because we don't have a culture of tipping and often don't even think about giving a gratuity, plus our dollar often seems fairly worthless abroad so we don't feel we can afford to spend much.
But it's good to know that we're considered polite... and if we take the trouble to learn a few basic phrases in the local language we'd surely rate even higher as travellers.
- Jim Eagles