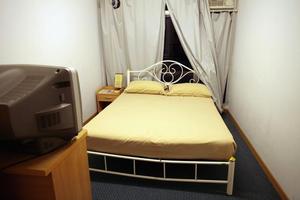 A true story: A New Zealand traveller overseas woke up one night in his hotel room after hearing a noise. A little sleep befuddled it took him a few seconds to realise that it had been the sound of his television coming to life.
But shock soon had him fully alert - his television was showing a video of him lying in bed!
I'm not going to say what country this took place in (and I don't know what hotel) but this was no travel myth.
It might be a scenario that is no surprise to business people, politicians or the like. But I admit it startled me.
Not long after hearing this story an overseas guide told me how, after one of his clients had had a camera stolen from her room, security staff had taken him to their office to view CCTV footage - he swears he saw monitors featuring hotel room interiors.
Hotel surveillance in lobbies, public areas and even in hotel corridors is the norm these days and is usually touted as being for our own protection.
Of course some countries, which take an interest not only security but in the personal lives of their guests probably are monitoring other things as well. I know of one hotel that has a man stationed on a chair all night in each corridor just to watch guests' bedroom doors.
But, maybe naively, I'd always imagined that once one's door was closed that was the end of the hotel's interest - in terms of cameras anyway.
Eavesdropping is another matter. Several years ago while in the Turkmenistan capital of Ashgabat I'd been told not to discuss any issues of local politics in my room or even on the tour bus, as it was believed by locals that bugging was rife.
But the story of the hotel television got me thinking and doing some online research. I was surprised how little I uncovered.
I did learn that there had been some publicity before the Beijing Olympics about possible video and audio surveillance of some hotel rooms. And there is a website dedicated to security advice for American business people travelling overseas which said both video and audio surveillance could be regarded as a real possibility.
Generally it seems that not all hotel rooms are monitored but that some hotels, especially those frequented by politicians, business people, scientists etc. have certain rooms equipped for video and audio surveillance. If it's thought you might be worthy of scrutiny these are the room you will be allocated.
I would also guess that only the more expensive hotels can afford such surveillance systems.
Most of us probably have little to worry about but it pays to keep in mind that hotel phones are unlikely to be particular secure.
And maybe we New Zealanders are not so aware of who might be listening as people from other nationalities who are more used to a Big Brother environment.
I've been amazed how many people sit in Koru lounges and engage in quite sensitive business conversations on their cellphone where all and sundry can listen in.
One piece of advice I did find on the Defence Security Research Centre website was never to do anything or say anything in your hotel room that you wouldn't be comfortable seeing on the front page of your local newspaper - presumably they were hinting at illegal activities or those of debatable morality.
However, it struck me that I wouldn't really want to be pictured on the front page still dripping from the shower to reach a ringing phone or painting my toenails on my bed. You can probably think of a few other scenarios that, while not illegal, might be extremely embarrassing.
But don't even think about hunting for hidden cameras, or draping something over the television set (which apparently is a common location for a camera). This just makes you look suspicious and therefore likely to attract even more covert attention.
The idea of in-room surveillance does seem to raise issues of personal privacy but I would imagine in some countries around the world this would be of no concern at all to authorities.
Outrage at a possible invasion of privacy is unlikely to get you anywhere.
Better maybe to simply always pack a dressing gown.
- Jill Worrall
Pictured above: Television sets are apparently a common location for hidden cameras in hotel rooms. File photo / Getty Images