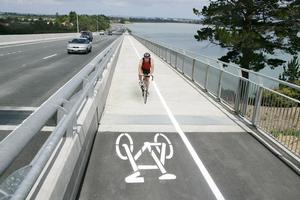 I don't want to rain on John Key's plan for a national network of cycle paths - which is a great idea - but I do think it's time someone pointed out that cyclists and walkers are like oil and water or motorists and cyclists: they don't mix.
As an occasional tramper I've long admired Geoff Chapple's concept of Te Araroa, the long pathway, a foot trail stretching from Cape Reinga to Bluff.
It's fantastic that after 15 years of endeavour Te Araroa's various lengths of track have almost joined together into a single route.
As an even more occasional cyclist I'm equally a fan for the Prime Minister's idea of building up a similar national network of cycleways.
But those two networks cannot be treated as the same thing. Sure there are some broad, flat trails, like the Otago Rail Trail, where cyclists and walkers can mix. But putting cyclists and walkers on to narrow tracks through dense bush is an accident waiting to happen (if it hasn't already occurred).
Cyclists, not unreasonably, want somewhere they can pedal along without living in perpetual fear of being knocked over by some careless motorist.
Well trampers, similarly, want tracks they can walk along without having to stay on permanent alert for packs of speeding cyclists.
I think, perhaps, the PM and his advisers may have the idea that all cyclists poddle gently along these trails, tinkling their bells to warn any pedestrians of their approach, stopping regularly to smell the flowers.
Some do - my wife and I certainly took that approach on a recent cycle tour of Provence - but the cylists I've met on trails around New Zealand have been rather more... aggressive.
In my experience bikers use any excursion down a backcountry trail as a test of their fitness, which means going as hard as they possibly can regardless of the terrain... or the presence of walkers.
And, as I know from personal experience, it's a scary thing to be strolling down some narrow, winding track through the bush, admiring the view or enjoying the birdlife, and suddenly with no warning to have a brightly-coloured, helmeted blur zoom past at 40kph, sometimes accompanied by an expletive-emphasised warning to get out of the way.
Each time it happens there's a serious risk of someone getting hurt. And even if there isn't a collision every near-miss is a nerve-jangling experience which isn't exactly what you're looking for when you head for the wilderness.
So let's definitely finish Te Araroa. And let's by all means develop a national cycleway.
But, please, let's keep the two apart.
- Jim Eagles
Pictured above: If cyclists and pedestrians could have their own paths, accidents and near-misses would be a thing of the past.