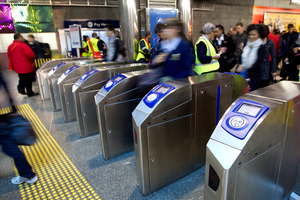 Auckland Transport remains confident of rolling out its controversial Hop smartcard to bus fleets in the second half of this year despite limited extra funds being voted by councillors.
The organisation had sought an extra $9 million from Auckland Council to buy card-reading machines rather than having to wait for equipment negotiated under a previous contract by a consortium of bus companies.
But spokesman Wally Thomas said $2 million voted by the council's finance and strategy committee last week should be enough to acquire the machines.
They could then lease them back to the operators, without losing any time for the rollout.
A "closed" trial of Hop cards has already begun on Northern Express buses run by Ritchies Transport, and Mr Thomas said a timetable for rolling out the system through the various fleets should be announced in the next two weeks.
Auckland Transport Hop cards are already being used by rail and ferry passengers.
They will ultimately replace Snapper Hop cards which have been operating since 2011 on NZ Bus services.
Mayor Len Brown said that in recommending the extra $2 million he remained confident the rollout on buses would be completed in time.
The task was to provide "seamless" transport connections between various services and modes when the new electric trains started running in the second quarter of next year.
The Hop system has so far cost $98 million in public funds - including $56 million from the Government's Transport Agency and the rest from ratepayers - meaning the extra money will push the bill to $100 million.
An extra expected cost of $12 million to bus companies has been revised downwards.