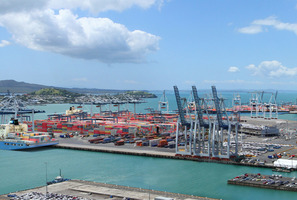 Auckland's marathon waterfront dispute may be nearing an end, with the port company saying it will accept a mediator's recommendations which unionists are calling a basis for more negotiations.
Port chief executive Tony Gibson said yesterday that although the council-owned company was not happy with aspects of a package recommended by Government-appointed facilitator Alastair Dumbleton, he was willing to compromise to achieve a deal.
Maritime Union president Garry Parsloe, whose 200 or so members at the port held a wave of crippling strikes last summer and were in turn locked out, was more guarded about the recommendations - which have yet to be made public.
But he said the union considered the recommendations as a whole "to be a useful basis to enter into what it hopes will be a successful round of negotiations with POAL [Ports of Auckland Ltd].... to reach a settlement that is fair to all the parties."
He indicated that Mr Dumbleton, who is chief of the Employment Relations Authority, had recommended a return to negotiations and said the union was seeking the company's agreement to an all-up meeting of its members to consider the package.
The company has been seeking sweeping changes to working rosters at the port since September, 2011, and last last year reached a deal with a new union of a minority of employees who worked through the strikes to maintain a skeleton service unloading incoming containers.
But exporting companies complained of losing up to $250,000 each from the dispute, and Auckland Council's investment arm forecast an $8 million in reduced port dividends to ratepayers.
Auckland Mayor Len Brown welcomed the reactions of both parties to Mr Dumbleton's recommendations and said he looked forward to a speedy return to negotiations to settle an issue "which has cast a shadow over our port for too long."
"Auckland is keen to move ahead," he said.
But Councillor Cameron Brewer, who chairs the council's business advisory panel, said the union did not seem overly happy with what had been recommended "so this may test the political mettle of the mayor."