Initial savings on transport card no better than multi-trip passes, regular riders told.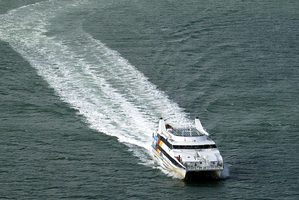 Auckland's $110 million public transport Hop card will extend to ferries today - but regular passengers are being told it "may be" smarter not to use it.
That is because a 10 per cent discount offered by Auckland Transport's new card initially will be only for one-way fares, meaning it will stop well short of savings from existing 10-trip paper tickets or monthly passes.
These include discounts of 33 per cent for 10-trip tickets on Devonport ferries, 26.4 per cent on Birkenhead and Bayswater runs, and 20.7 per cent to or from Waiheke Island.
The council agency is issuing a flyer to passengers saying it may be better for them to keep using their existing paper tickets for now.
"If you're a regular ferry passenger and use ferry operator discount passes, you may find it better value right now to continue using these products," the flyer says.
Chief operating officer Greg Edmonds told the Herald that multiple trip passes would be cheaper until new deals could be worked out with ferry operators by mid-2013.
That meant it was likely Hop cards would be attractive in the first instance to only casual passengers, who could also use them on trains and for free rides on City Link buses on Queen St and to Wynyard Quarter.
Multiple-trip fares for ferries would be brought into the Hop fold at about the same time as buses were joined to the system from April.
Meanwhile, Auckland Transport has sold about 41,000 Hop cards since introducing them to trains last month at a $5 special price, which will rise to $10 at the end of next week.

Auckland Transport Hop card
*About 41,000 in circulation.
*Introduced to trains on October 27 and to extend to ferries today and to buses between April and June.
*Can also be used for free rides on City Link buses.
Snapper Hop card
*About 200,000 in circulation for use on NZ Bus services, and in some taxis and convenience stores.
*To be replaced on buses from April by Auckland Transport Hop cards.