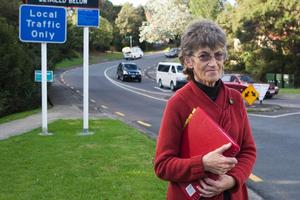 More than 4000 people have signed a petition to save a shortcut in the congested North Shore suburb of Glenfield.
The city council wants a trial ban on two turning movements in and out of Easton Park Parade, Glenfield.
It is a belated attempt to resolve a decade of complaining by parade residents, who woke up one morning and found the traffic outside had doubled because of a new council bridge.
But petition organiser Diane Edwards said yesterday the council put the rights of people who live on the street ahead of the wider community who drive on it the most.
"It's going to affect thousands and the council has not consulted anyone outside of that street about it since 2006."
The parade was an important link between Kaipatiki Rd and Manuka Rd for Bayview and Windy Ridge communities and Glenfield College and Manuka Primary School.
Motorists believed restrictions would add 10 to 20 minutes to their journeys if they were forced into congested routes around the Glenfield Mall.
Ms Edwards, who lives in Bayview, also organised a petition against restrictions in 2002. It was signed by 2320 people, including some residents of the parade.
Two years ago Mayor Andrew Williams took up the call for relief by parade resident Andrew Dickson.
Mr Dickson said his street was used by motorists "rat running" between Kaipatiki Rd and Glenfield Rd.
Traffic engineers' reports opposing restrictions ignored benefits to residents and schools. The road is used by 8000 vehicles a day, peaking at 8am and 6pm.
Last June, the council resolved to allocate $100,000 for trial intersection arrangements, including a ban on turning to the right from the parade to Kaipatiki Rd and turning to the left from Kaipatiki Rd to the parade.
Ms Edwards said she was disappointed on Tuesday when she presented the petition to the council's infrastructure and environment committee only to have the chance of a discussion on it wiped out by a procedural motion.
Mr Williams said yesterday that a trial was at least another year or two away. It had to wait until a double right-hand turn from Glenfield Rd to Kaipatiki Rd was completed to provide a proper arterial route.
He disagreed that the council was putting the rights of the parade residents before the interests of the wider community.
"We are a council that is prepared to look at the wishes of the community but not ignore another part and these people of Easton Park Parade have been ignored for 10 years."