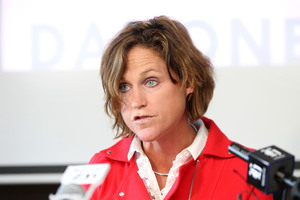 Baby formula company Nutricia and anyone else considering legal action over the Fonterra contamination scare should wait until inquiries into the incident are completed, Prime Minister John Key says.
Nutricia yesterday said it was considering seeking compensation or pursuing legal action against Fonterra or AgResearch after recalling 67,000 tins of formula as a precaution.
"We are considering our legal position," Nutricia Australia New Zealand general manager Corine Tap said.
Mr Key said legal action was affected parties' prerogative, "but I think personally myself the first port of call is to complete all of these inquiries".
Fonterra is conducting two inquiries, the Ministry for Primary Industries has begun its own investigation and the Government is conducting a ministerial inquiry into the contamination scare which was revealed this week to be a false alarm.
But Primary Industries Minister Nathan Guy says there are still questions to answer over how signs of contamination in 38 tonnes of whey powder concentrate produced by Fonterra last year were dealt with.
Meanwhile, Mr Key has again said there were signs of problems with the batches of whey powder concentrate when they were first produced in May last year which puts him at odds with recent Fonterra statements.
However, last night his office issued a "clarification" saying "we understand from Fonterra's initial press release the first testing that indicated issues was in March 2013".