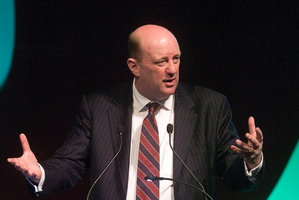 The NZIER shadow board thinks the Reserve Bank should keep the official cash rate on hold at 2.5 per cent tomorrow, but compared with six weeks ago there is less support for the idea that the next best option is a cut.
The shadow board is a panel of nine economists and businesspeople the New Zealand Institute of Economic Research asks to quantify their preference for various levels the bank could set its policy interest rate at. The results are then aggregated to give an indicator not only of which rate the bank should go for, but the shifting balance of risks around it.
In the latest survey a 63 per cent weighting attaches to an unchanged OCR, up from 56 per cent last month, and 25 per cent to a cut, down from 32 per cent.
Business New Zealand chief executive Phil O'Reilly, citing building inflationary pressures, is now 100 per cent in favour of an unchanged OCR, when six weeks ago he was split 50:50 between that and a cut of 25 basis points.
ANZ chief economist Cameron Bagrie - 70 per cent in favour of no change but 20 per cent in favour of a hike - said the Reserve Bank faced a tricky balancing act as it tried to contain a housing boom while attempting to shield the tradeable sector from the fallout from a high kiwi dollar.
"Further complicating the situation is a number of large shocks in opposite directions," he said. "These include the impact of the Canterbury rebuild versus fiscal consolidation, a wobbly global scene versus increasing connectivity to Asia and the impact of drought on agricultural production versus a strengthening terms of trade outlook."