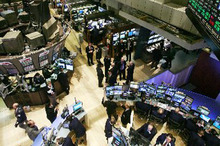 US stocks fell on Saturday, ending the longest winning streak for the Dow Jones industrial average in nearly 17 years.
It dropped 25.03 points, or 0.2 per cent, to 14,514.11. The Standard & Poor's 500 index fell 2.53, or 0.2 per cent, to 1560.70. The Nasdaq composite index dropped 9.86, or 0.3 per cent, to 3249.07.
The S&P 500 closed just five points below its all-time closing high of 1565, reached in October 2007. Last Friday, the Dow closed out a 10-day winning streak, its longest since November 1996. The string of wins pushed the Dow up 484.65 points, or 3.4 per cent, to a Friday close of 14,539.14.
Trading was tentative because investors fear rising inflation will cause the Federal Reserve to retreat from policies aimed at boosting markets. The government said that consumer prices increased last month at the fastest pace in more than three years.
The increase was driven by a spike in gas prices; the core index, which excludes the volatile energy and food categories, increased more modestly. But both figures rose 2 per cent compared with a year earlier.
"It's real and it's a drag, and I think people are growing concerned that it can get out of control quickly," said Peter Tchir, who runs the hedge fund TF Market Advisors.
Traders are processing big banks' scores on "stress tests" administered by the Fed which last week said JPMorgan Chase and Goldman Sachs need better plans to cope with a severe recession. It gave them until September to revise their plans.
Still, the Fed allowed both banks to increase dividends and buy back their stock, signalling that regulators believe the banks are fundamentally sound. The stock of JPMorgan fell 98c, or 1.9 per cent, to $50.02. Goldman's stock rose 82c, or 0.5 per cent, to $154.84.
-AP