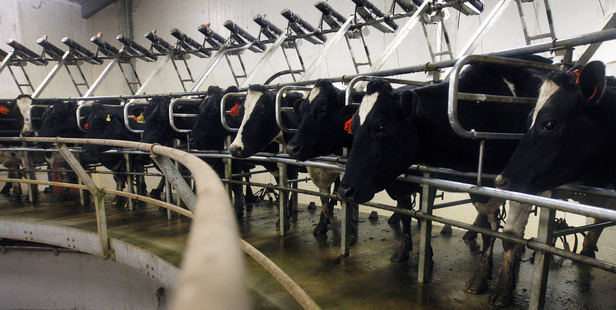 World dairy prices were up again in the latest overnight dairy auction, lifting 1.1 per cent from two weeks ago.
It is the third straight lift in the Fonterra- run GlobalDairyTrade auction of dairy products.
Prices for whole milk powder, which typically accounts for more than half the product sold, rose 2.8 per cent to US$3288 per tonne.
The total volume sold was 40,418 tonnes across 12 rounds of bidding. That was down from 45,252 tonnes at the last auction.
The sale comes ahead of next Monday's debut inclusion of the Fonterra Shareholders' Fund in the NZX 50 Index. The units have been climbing in anticipation of that event, up from $7.31 to $7.49 since last week's announcement, closing yesterday at a new record of $7.49.
Today's sales give unitholders an update on global pricing of Fonterra's products and may be reflected in the units when they resume trading today on the NZX and ASX.
See more details of the auction here.
with BUSINESSDESK