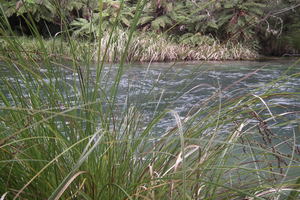 Having reaped the rewards of Tourism New Zealand's 100 per cent Pure hyperbole for the past 13 years, it's a bit late for New Zealand Inc to suddenly get spooked by a bit of mocking from an editorial writer in China. The tourism bosses signed us up to this Faustian pact in 1999, and with everything from giant rugby balls to Air New Zealand jets and Hobbit blockbusters now emblazoned with the slogan, we're rather saddled with it.
It's not as though we can fall back on the time-honoured "God's Own Country" either. That got snaffled up in the late 1980s, and apparently copyrighted by the the Indian state government of Kerala, led at the time, ironically enough, by a communist who knew a good slogan when he saw it, God or no God.
But why would we be silly enough to abandon an obvious winner anyway. When news-hungry hacks from leading papers from around the world - International Herald-Tribune, New York Times, Britain's Daily Mail, and assorted Chinese government-owned publications, highlight the campaign, and the tiny dot at the bottom of the globe it aims to publicise, you have to say it's more than doing its job.
Even I joined in the fun late last year after Massey University environmental scientist Mike Joy was quoted in the Herald-Tribune-New York Times article saying "there are almost two worlds in New Zealand ... the picture-postcard world, and then the reality."
Coming, as it did, on the eve of The Hobbit film launch, such negativity was a bit much for Prime Minister John Key. He said Dr Joy shouldn't take things so literally, that just as expecting to love every mouthful of McDonald's fast food was marketing hype, "it's the same thing with 100 per cent Pure. It's got to be taken with a pinch of salt".
Mr Key then tried to feed us a whole truck load of salt by claiming "the vast bulk of New Zealand waterways are safe to swim in" and the academic critics just "look at the worst ones". Screeds of official testing tell a different story. The Ministry for the Environment, for example, reporting that more than 50 per cent of freshwater beaches are poor or very poor for recreational use.
This week, environmentalist Peter Nuttall will argue his case before the Advertising Standards Authority that the 100 per cent Pure slogan "misleads" and "misrepresents" New Zealand. In a recent interview, Dr Nuttall said "a brand should reflect its product or the product should be made good to reflect its brand". He lost an earlier bid before the ASA in March, but has now been granted a rehearing.
It no doubt will sound perverse to the keepers of the precious brand, to say nothing of the critics, but to me protests like this, along with media sniping from overseas, seem good reasons for not quietly dropping the slogan. In 2009, on the 10th anniversary of the slogan launch, George Hickton, the chief executive of TNZ, said: "The reason that 100 per cent Pure New Zealand has been so successful is not just because it's a great catch phrase, but because it is true."
With possums and stoats and rats slowly ravaging our native wildlife, and the growing cow population rendering more and more rivers unhealthy for humans and fish alike, that claim can only be a living embarrassment for tourism bosses and government. But it and the slogan he was extolling does provide a focus that makes them not just squirm, but also take steps to improve the product, until it does start to "reflect the brand".
It's not as though a bit of barracking from the sidelines is going to destroy such a prominent international brand. Even if we had revived God's Own Country, the tagline popularised in the late 1800s by our longest serving premier, Richard John Seddon, there's no doubt it too would have become a target, too irresistible to ignore. Last week, for example, the India Today news site couldn't resist heading a story: "God's own country not safe for kids any more, the flip side of Kerala's growth rate." Alcohol and drug abuse were blamed for a rise in child abuse. It seems nothing is 100 per cent in either the new or the old Godzone.
What both New Zealand and Kerala share in common are remarkable boosts in tourism numbers based on clever taglines that rapidly became global brands.
In the late 1980s, the southwestern coastal state of Kerala decided to promote itself as an upmarket international tourist destination. With Kashmir once claiming to be Paradise on Earth and Ceylon (Sri Lanka) Paradise Island, Calcutta-based adman Walter Mendis proposed "God's Own Country" for Kerala. His successful pitch was very similar to the one backing the New Zealand 100 per cent Pure campaign. It presented Kerala as a scenic wonderland largely untouched by modernity. It rapidly became one of the most recognisable slogans in the business. Of course it does have one advantage over the New Zealand brand.
For critics, disproving the claim is rather harder.