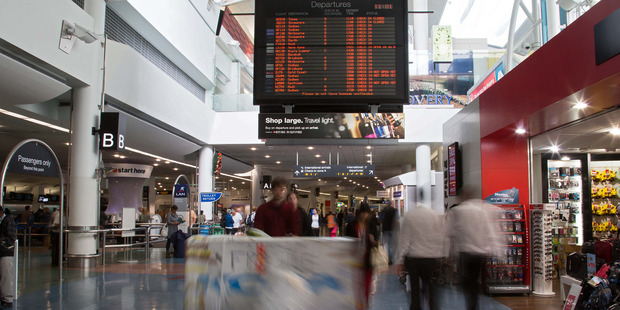 Auckland International Airport broadly met analyst expectations with a 19 per cent gain in first-half profit although analysts and investors see some speed wobbles as New Zealand's busiest gateway responds to surging passenger growth.
The airport company's shares are little changed at $6.75 on the NZX today and have fallen about 3 per cent in the past four days. Year-to-day the stock is up 7.4 per cent, making it one of the best-performing large-caps on the market.
Auckland Airport today raised its capital expenditure guidance for the full year to between $370 million and $400m, from a previous range of $330m to $370m. The company also lifted its guidance for full-year underlying profit before one-time items to a range of $235m to $243m, from a previous range of $230m to $240m. That implies profit growth in the second half will slow to between 2.7 per cent and 10 per cent.
Short-term visitor arrivals to New Zealand rose 12 per cent to a record 3.5 million in 2016, government figures show.
In Auckland Airport's first half, international passenger numbers (arrivals and departures) climbed about 13 per cent to 5.1 million, while domestic passengers rose 12 per cent to 4.3 million. The airport welcomed four new airlines and five new services in its first half and now has a stable of 27 airlines, 44 international and 19 domestic destinations. New additions Hong Kong Airlines, Tianjin Airlines and Hainan Airlines will contribute to growth in the second half of the year, it said today.
To cope with the growth, the company currently has 42 capital expenditure projects underway, including security processing, new check-in counters, upgraded baggage handling, upgraded retail, new duty-free shops, new gates and lounges. It has committed to a new five-star hotel, has completed airfield stands including those that can accommodate the new generation of jumbos such as the A380, is making progress on plans for a second runway and has installed infrastructure required for its new builds including water, waste water, electricity and fuel. Staff costs rose about 11 per cent to $24.9m as it hired more workers including 60-plus "passenger experience assistants".
Such a busy time for the airport saw operating expenses rise 11.8 per cent to $75m in the first half, outpacing a 10.8 per cent rise in revenue to $310.9m. Underlying profit rose to $123.5m, just above brokerage Forsyth Barr's $119.2m forecast, from $104m a year earlier.
Chief executive Adrian Littlewood said responding with operational investment "is right when you're in this kind of growth". The company had made "conscious choices" such as increasing the headcount and boosting investment in technology and systems, and the pace of change "will continue for some time," he said on a conference call.
Shane Solly, a director at Harbour Asset Management, said having watched several growth cycles at Auckland Airport, they tend to be followed by some flattening off.
"It is a tiger by the tail in terms of managing the growth," he said. "Management is doing a very good job managing that process. It is a near-term tactical issue, while long term they are making the right decisions." In the first half, opex "was a bit higher than analysts had expected while passenger spend was a little bit lower".
Chief financial officer Philip Neutze said on the call that the projection for a slightly softer second half reflected the seasonal drop-off in load factors in New Zealand's winter months.
Airfield income showed the fastest growth in the first half, rising about 18 per cent to $59m, while its passenger services charge rose about 14 per cent to $85.9m. Investment property rental income rose 17 per cent to $32.5m.
The weakest growth came from retail income, up 2.7 per cent to $80.7m, with disruptions during terminal refurbishments taking much of the blame. Littlewood said there were also changes in the mix of passengers that were reflected in retailing, such as a trend for more Chinese to travel as free agents rather than in a group tour, and changes in spending habits such as a drop-off in high-end luxury items such as watches.
"We have to make sure the balance of our offering is right," he said.
The company lifted its first-half dividend by about 18 per cent to 10 cents a share.