China Southern's daily Guangzhou to Auckland service starting Monday part of plans to grow global coverage.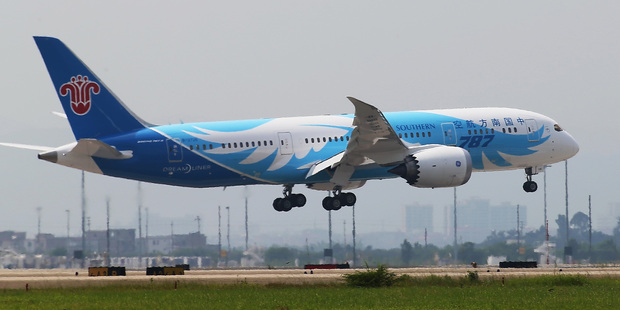 China Southern Airlines will be the first carrier to operate scheduled Boeing 787 Dreamliner services to New Zealand from Monday as part of ambitious plans to expand its international footprint.
The airline will fly daily services using the plane - made largely of carbon fibre - from Guangzhou to Auckland year-round and step this up to 10 flights a week over the peak summer period from December 4 to March 1.
The planes will have 228 seats - 11 more than Airbus A330s now used on the route - and 20 per cent more cargo capacity.
China Southern's general manager for New Zealand Mike Ma said there would be 88 more flights over summer.
He said bookings for the Dreamliner flights had been strong, particularly after the airline put special fares on the market in August. Because it is the first of the new planes to fly to Auckland, the airline's Auckland-based engineer and ground handling contractor needed new certification from Boeing.
China Southern started running scheduled domestic services with its Dreamliner in June before launching services to London from its hub in Guangzhou in the south of the country.
It now has five of the planes and is scheduled to take delivery of another two by the end of the month, and will get 10 in total.
While deliveries of the plane were delayed by more than three years and the Dreamliner has been hit by a series of problems since its launch into airline fleets in 2011, Ma said his airline had not encountered any glitches.
The Auckland-Guangzhou flights link with services to London, the airline's Canton route which it launched last year. On the same day as the new Dreamliner services to New Zealand, China Southern is expanding its Australian operation, starting double decker Airbus A380 services to Sydney.
"It's because New Zealand and Australia are key markets. Our strategy is to build the Canton route from New Zealand and Australia to Europe and all over the world via our Guangzhou hub," Ma said.
"Our company's strategy is to get a higher ratio of flights to international markets."
New Zealanders are now allowed to transit in Guangzhou for up to 72 hours without a visa, up from the maximum of 24 hours previously allowed.
China Southern is the world's third largest airline measured by passengers carried and Asia's largest airline in both fleet size and passengers. It now flies to about 40 international destinations.
Its domestic network is facing pressure from high speed trains and is one reason the airline is expanding overseas although that should not be over-emphasised, Ma said.
China Southern's Dreamliner is the first to have a first class cabin in a 1-2-1 configuration.
Its 24 business class seats are in 2-2-2 configuration; and 200 economy class seats in 3-3-3 configuration.
China's air fleet to triple - Boeing
China will need 5580 new aeroplanes over the next 20 years valued at US$780 billion ($924 billion), says Boeing.
In its annual market forecast, Boeing said the country's fleet was set to triple over the next two decades.
Randy Tinseth, Boeing Commercial Airplanes vice-president of marketing, said tourism in China and intra-Asia travel will help drive strong demand for single-aisle aeroplanes, with total deliveries in that segment reaching 3900 by 2032. Long-haul international traffic to and from China is forecasted to grow at an annual rate of 7.2 per cent.
Boeing projects investments of US$4.8 trillion worldwide for more than 35,000 new commercial aeroplanes to be delivered during the next 20 years.