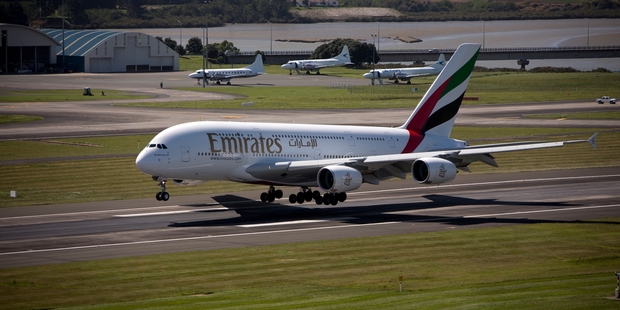 The prospect of direct Emirates flights between Auckland and Dubai - which would become one of the world's longest commercial aviation routes - has been talked up by Foreign Minister Murray McCully.
Speaking after the arrival of the airline's first Airbus A380 service from Dubai to Auckland via Brisbane last week, the minister said he had floated the idea of a direct link between the two cities with the carrier's chairman, Sheikh Ahmed bin Saeed Al Maktoum.
"He didn't say, 'We'll do it next week', but he didn't say 'no' either," McCully said. "I look forward to the day when we can have that conversation in a more meaningful fashion. I think it will require New Zealand to be more active in promoting ourselves in the GCC [Gulf Co-operation Council] market."
Emirates has three daily A380 services into Auckland from Dubai via Brisbane, Melbourne and Sydney.
The distance between Auckland and Dubai is 14,176km.
Singapore Airlines has had direct, all business class Airbus A340-500 flights from Singapore to Los Angeles and New York (14,100km and 15,345km respectively), according to the Centre for Aviation.
But the carrier said last year that the services, of up to 19 hours, would be discontinued, because of lagging demand and high fuel prices, during the final quarter of 2013.
When those routes end, Qantas' 13,800km Sydney to Dallas service, which uses the long-range Boeing 747-400ER, will become the longest commercial flight by distance.
Emirates' longest direct flights at the moment are Dubai to Los Angeles and Houston (13,420km and 13,144km) which both have a flying time of 16 hours and 20 minutes, according to the Centre for Aviation.
Emirates' vice-president for Australasia, Bryan Banston, said a direct Auckland to Dubai service was not planned and there would be issues about the distance. The A380 would need a "payload restriction", he said, meaning cargo or passenger numbers would be limited.
But Banston said Emirates would watch market growth and would be ready to look at it seriously.
McCully said Emirates' 28 weekly flights into New Zealand provided Kiwi businesses with a huge opportunity for growth in one of the world's fastest growing markets - the Middle East.
Auckland Airport chairwoman Joan Withers said the introduction of the A380 on Emirates' daily Dubai-Brisbane-Auckland route, previously operated with a Boeing 777-300ER, would boost annual capacity on the service by 100,000 seats and inject an extra $100 million into the New Zealand economy.