China is NZ's second-biggest source of tourists and numbers are forecast to surge 46 per cent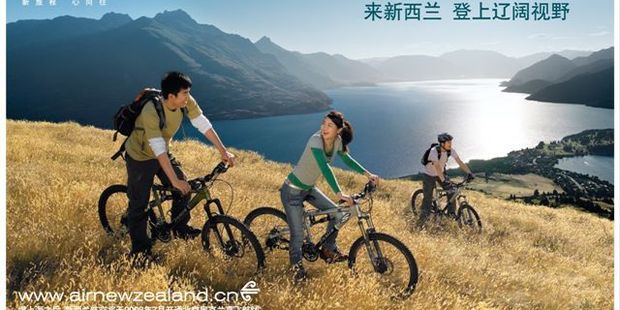 The number of Chinese tourists coming to New Zealand is forecast to surge by 46 per cent with an extra 100,000 visitors during the next year, according to a tourism research agency.
China is already New Zealand's second-biggest source of tourists with 225,000 arrivals during the past year, behind Australia with almost 1.2 million.
The China Outbound Tourism Research Institute has found that close to 38 million mainland Chinese travelled to other countries around the world in the first five months of the year, a 17 per cent increase on the same period last year.
The report found a change in Chinese consumption habits with more tourists wanting to travel independently rather than on tours, and a shift from sightseeing to activity-based holidays in which they would spend more money.
The institute's New Zealand representative, Zane Smith, said that was good news for this country but some tourism operators were not ready.
Infrastructure, including hotels, was lacking in some areas and New Zealand operators needed to tailor their attractions and service standards to meet the expectations of the Chinese market.
"If we do not have the systems in place to handle the growth we could cause damage to our good name for service. Which with the Chinese penchant for social media can happen very fast," he said.
New Zealand was competing against emerging tourist destinations such as Venezuela, Peru and Nepal for Chinese visitors.
Smith said he was recently at an expo in China attended by 4000 travel buyers and competition among sellers mirrored the "feeding frenzy" in other sectors trying to tap the Chinese market.
"We're competing against every other country. The world is having a feeding frenzy on China at every level."
Smith is also a director of Vation, a marketing company specialising in marketing and training for the tourism industry.
The research found Chinese are expected to spend US$129 billion ($160 billion) on international travel over the next year.
Research institute director Wolfgang Georg Arlt said the main increase in travellers came from a new generation of young, wealthy Chinese, born in the 1980s and 90s who had only ever known economic progress.
For some segments of the market bragging power could come from climbing a mountain in New Zealand.