Australian regulator allows 5-year extension of alliance but airlines must maintain capacity.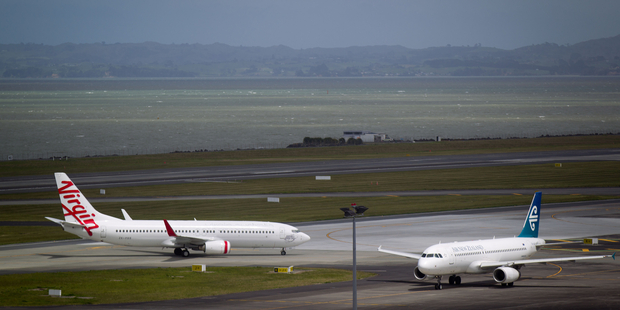 Australian competition regulators are imposing strict conditions on the extension of Air New Zealand's transtasman alliance with Virgin Australia as the relationship between the two airlines deepens.
The Australian Competition and Consumer Commission (ACCC) has granted conditional authorisation for the alliance, which started in 2010, to run until October 2018.
The alliance has helped to turn around big losses for the airlines as it allows a broad code share arrangement covering all Tasman sectors and domestic sectors in each country as part of a connecting journey, a revenue share agreement, and reciprocal loyalty scheme and lounge benefits.
ACCC commissioner Jill Walker said that without the alliance, Virgin Australia's transtasman operations would be more limited than its key competitors'.
"It also considers that Air New Zealand is likely to be at some competitive disadvantage to the Qantas-Jetstar-Emirates alliance due to its weaker sales presence and more limited access to the domestic market in Australia," she said.
The alliance was unlikely to reduce competition on most of the transtasman routes, but the commission was concerned the alliance might affect competition on several routes - Christchurch-Melbourne, Christchurch-Brisbane, Wellington-Brisbane, Queenstown-Brisbane, Auckland-Gold Coast and Dunedin-Brisbane.
The commission was imposing conditions that required Virgin Australia and Air New Zealand to maintain aggregate base capacity across these routes.
Walker said the ACCC was also requiring the airlines to provide key performance data at the end of each scheduling season to help it assess if the alliance was having any adverse effect on competition.
New Zealand Transport Minister Gerry Brownlee has yet to approve the deal.
Air New Zealand holds a 23 per cent stake in Virgin Australia and, in a separate process, is awaiting an ACCC ruling on whether it can increase this by 3 per cent. Virgin last week announced a A$98 million loss ($113 million) and went to major shareholders Air New Zealand, Etihad Airways and Singapore Airlines for a A$90 million loan.
The one-year unsecured loan will "supplement and diversify" the liquidity position of Virgin, reported by Bloomberg to have the third-highest debt ratio among global airlines.
An analyst at Craigs Investment Partners, Chris Byrne, said the alliance extension would allow increased certainty for the airlines' long-term planning.
The loan would help Virgin through a "liquidity blip" as it fought hard to retain gains made in the cutthroat Australian domestic market, he said.
At last Thursday's announcement of Air New Zealand's $182 million annual profit, the airline's chief executive, Christopher Luxon, said the alliance had a clear strategic aim to access a large connected market.