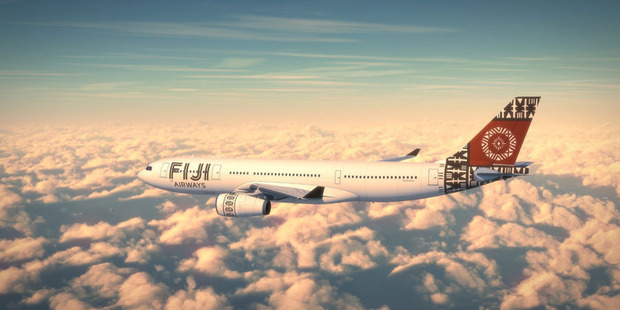 Air Pacific's first new Airbus A330 touched down on home soil today, marking a major point in the airline's transformation into 'Fiji Airways'.
The new wide-body aircraft completed an 18-month journey from order to delivery, landing in Nadi this afternoon after flying from Airbus' facility in Toulouse, France, via Hong Kong.
Fijian national carrier Air Pacific will be officially renamed 'Fiji Airways' in June and the A330 is the first of three to carry the new branding.
Air Pacific's chief executive Dave Pflieger described the branding as "authentic, distinctive, and true to the airline's Fijian roots".
"The arrival of our first new Airbus A330 carrying the new 'Fiji Airways' brand and Island of Taveuni name represents an exciting future," he said.
The A330 is valued in the Airbus catalogue at a price of about USD$200 million (NZD$242m) each.
The planes and livery are part of a turnaround plan for the the 60-year old airline which reported an operating profit of $11.5 million for the year to March 31 2012, compared with an operating loss of $2.6 million for the previous financial year.
With Fijian President Ratu Epeli Nailatikau on-board, the plane performed a fly-over of Fijian cities and islands prior to landing at about 1:45pm New Zealand-time.
Hundreds of dignitaries, business partners and residents greeted the flight's arrival.
The aircraft is named after one of Fiji's 333 islands, Taveuni, which is known as 'The Garden Island.'
Air Pacific's 'new' Fiji Airways brand - the original last seen in 1970 - will be rolled out across ticket offices, check-in counters, airport lounges and uniforms by the end of this year.
The airline's second and third A330s are scheduled to arrive in May and November.
Initial funding for the aircraft came from the Fijian National Provident Fund and the bulk of the cost is being met from international aircraft financiers KfW IPEX-Bank and Helaba.
Pflieger said the planes were 40 per cent more efficient than the current fleet of Boeing 747s, which are being retired later in the year.
The A330s would also play a role in building Fiji's travel and tourism industry and increasing agriculture and textile exports, he said.
"The responsibility that comes with being the nation's carrier is reflected by our commitment to bring greater economic benefit to Fijians by broadening tourism and trade opportunities."
Air Pacific's new fleet will mean an increase in the capacity of and number of flights to existing destinations, including Auckland, Sydney, Hong Kong and Los Angeles.
An inaugural commercial flight to Auckland will take place on April 2, with a five-times weekly service running through until July.
* An earlier version of this story incorrectly stated that the Fiji Airways brand was last seen in 1951. Fiji Airways was the name of the airline between 1951 and 1970 before changing to Air Pacific in 1971.