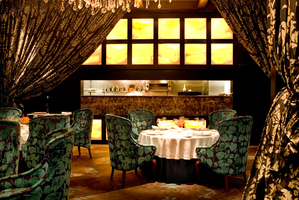 Auckland tourism chiefs and Auckland Airport will launch a new strategy to attract rich Chinese tourists.
Auckland Tourism, Events and Economic Development (ATEED) and the airport company say the strategy is based around targeting high yielding business and first-class passengers and selling premium experiences and accommodation on arrival in Auckland.
This will involve marketing direct to consumers through initiatives like partnering with airline frequent flyers and platinum credit card companies to promote tourism packages to wealthy customers and working with inbound tour operators.
Auckland Mayor Len Brown has announced a new marketing partnership with Guangzhou as part of the mayoral trade mission to five Chinese cities.
Up to 60 multimillionaire business people from the exclusive Shanghai Travellers Club were hosted at a function yesterday in the city by ATEED, Auckland Airport, Air New Zealand and SkyCity.
China has more than a million millionaires, the number of which grew at more than 30 per cent last year.
ATEED and Auckland Airport will set up a $200,000 fund aimed at marketing to the luxury end of the fast-growing Chinese visitor market.
Last year there were 134,444 Chinese arrivals into Auckland out of 145,524 Chinese arrivals to New Zealand. There was a total of 2.6 million tourists last year.
ATEED manager tourism Jason Hill said Auckland was investing strongly in attracting more high-yield Chinese visitors to Auckland.
"It is vital we work as an industry to maximise the potential of this fast-growing visitor market. This China delegation and luxury marketing fund will bode well for raising awareness of Auckland's premium tourism offering and mix of sophisticated urban and natural experiences," said Hill.
Auckland's China trade mission coincides with an announcement this week by the Ministry of Transport of a new air services arrangement with China that triples the amount of passenger flights that may be operated between the two countries.
Auckland Airport chief executive Simon Moutter said the initiative was part of Auckland Airport's programme to develop premium travel markets.
"We are absolutely committed to capturing the lucrative Chinese travel market. It is important we jointly, as an industry, grab the opportunity to develop New Zealand as a premium brand to that market."
Chinese tourists now spent on average $300 a night, more than European, North American and other Asian tourists.
Chinese holidays in New Zealand had now grown to an average of 6.1 nights per visitor.
"We expect this to grow as the Chinese become more confident travellers," said Moutter.