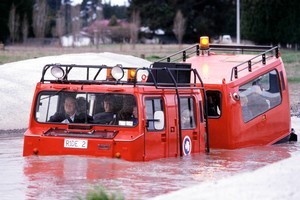 Christchurch International Airport has bought the International Antarctic Centre from its private owner for an undisclosed sum.
Airport bosses today spoke of their "delight" at adding the neighbouring visitor attraction, which has twice been judged `Best New Zealand Visitor Attraction', to their expanding portfolio.
CIAL chief executive Jim Boult said: "There is obvious synergy here - Christchurch Airport is the tourism gateway and the International Antarctic Centre is a cornerstone of the tourism industry.
"Visitor feedback and market research consistently show it is popular and well regarded by visitors as well as the industry.
"The International Antarctic Centre is not only interesting, it's fun - with the Hagglund Ride, the Antarctic Storm, The Snow & Ice Experience, the NZ Penguin Encounter and the new 4D motion experience."
Richard Benton has privately owned the International Antarctic Centre for the past 11 years and has been the driving force behind much of its innovation.
However, the centre, which opened on September 28, 1990, has faced tough trading conditions since the February 22 earthquake.
Benton said: "The timing is now right to pass on the reins to the airport company for the next very exciting stage of the attraction's development.
"It has been a real privilege and honour to lead a team that has developed a very successful tourism facility and to have been part of the Christchurch Antarctic community."
Boult says the acquisition is in line with the company's strategic plan to increase non-aeronautical revenues and profit.
Some of this will be achieved through the acquisition and development of complementary or closely aligned businesses.
Other company initiatives are the continuing development of Dakota Park freight and logistics precinct and Spitfire Square, a new retail development which has recently gained consent.
The airport, which is owned 75 per cent by Christchurch City Holdings Ltd and 25 per cent by the Government, will take over ownership of the International Antarctic Centre on December 1, with the attraction's staff offered continuing employment.

- APNZ