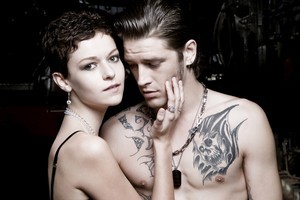 There always has to be an antagonist. Last year it was the totally-inappropriate Dakota and this year it's surly old Tyne who is rustling feathers.
Little madam is very happy with herself when she wins a challenge this week and gets to join Rosanagh and Arihana on a real-life advertising campaign. The remaining girls feel they have also lucked out because they get to have a whole afternoon at home without her stomping all over their fun and refusing to touch anything but free range eggs.
Claws are out, so fortunately, after contorting up a storm for the tap-dancing sensation and master of poses Wil Saben, the girls get to unleash their pent-up oestrogen on yet another attractive male specimen.
Rosanagh nearly dies when she realised it is the guy she has been lusting over ever since she ripped his picture out of a magazine.
Called 'diamond in the rough', the shoot involves the bejewelled girls posing in skimpy lingerie, in a rusty shed, with people welding in the background, and feigning intimacy with a topless dude.
It takes a lot of skill and concentration, and much to the surprise of the judges, it is AJ (the gangly one who usually comes across as the most cerebrally-challenged contestant) who aces it.
Bianca is gaining confidence by the episode, and pretends she knows what she is doing when she drapes herself over her male subject.
"The closest I have been to a guy is hugging my stepdad," she admits, melting hearts.
She further endears herself by letting out a shocked "holy poo" when she sees the striking result.
"Snaps for Bianca" calls chief judge Sara Tetro, in another one of her awkward attempts to be down with the kids.
Loveable, "silly Issy" has gone "hundy as" (has tried hard) this week.
She graciously apologises for disrespecting the judges in the previous shoot and solemnly swears she will lose the "reckless" attitude.
But rather than getting snaps for passing through to the next round, she gets a slap in the face when her wing-woman, and crowd favourite, Yanna is sent packing.
Everyone thought it would be "trailer trash" Amber, or Briana the "12 year-old-with-makeup on", or "too tranny" Arihana who would be turfed.
Yanna is no rough diamond, but her photo simply did not make the cut.
What: New Zealand's Next Top Model
When and where: 7.30pm, TV3