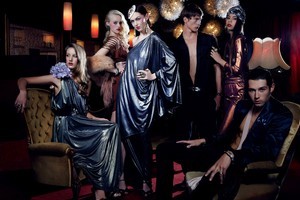 Fashion's about suffering, says Colin Mathura-Jeffree, as he wraps the girls in tight, latex-like saris and sends them down the stairs in high heels to practice their catwalk.
Losing Aminah last week has startled the thirteen remaining contestants into the reality of the competition. They are not just on an extended girls weekend at a fancy apartment.
Aminah was the resident chef, so now they are all fumbling around in the kitchen trying to use taco seasoning to spruce up their mashed potatoes and washing the dishes with hand soap.
But they get another taste of glitz when they get picked up in their Hummerzine and taken to Glassons in Newmarket to parade new season clothes for New Zealand celebrities.
Arihana really gets into the groove of things, though she is later told to lose the "circus freak", and Rosanagh, the pretty Polish face, glides past the judging panel like a vampire. AJ further asserts her position as ditz of the year by walking the wrong way, and this prompts her usual flood of tears, while Bianca gets all "freaky outy" when she hears members of the audience snigger.
Sara Tetro, Bianca's champion, says she just needs to work on her confidence, but the editor of Cleo magazine seems positively scared of the weird kid's mean look.
In the end, it's ethereal, romantic and supposedly "plus sized" Aroha who takes the prize of a $1000 wardrobe and a car.
She's stoked, and secretly, the others seem very pleased that she beat precious wee Tyne, who judges also love. They say she looks like "the fun girl at the party", but anyone who has been at the model house knows she is anything but.
Pettiness is part of the package when thirteen doses of oestrogen are left simmering away in an apartment. You can't blame the young women for going a bit gaga when they are later asked to pose with male models.
"Damn, Southland does not have boys like that aye,'' Hillary gushes and Yanna tries so hard to "keep the party inside" that her face is all puckered in the photo
shoot. Issy fails to shine in her shiny dress, which she says kills her buzz a bit, but in the end she is thrown a lifeline.
Everyone's-best-friend Holly is told to walk instead. Frankly, the background just got the better of her, Tetro says. Ouch.
But Holly insists she is thankful that her job has been held open for her back at Countdown in Oamaru. Someone else in the house is probably thankful to have her friends back.
What: New Zealand's Next Top Model
When and where: Friday, 7.30pm, TV3.