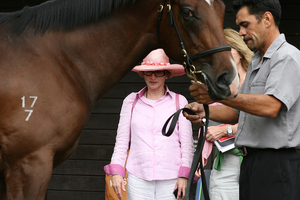 There will be a good many fine winners knocked down at the Karaka sales next week.
And next year, one of them will advance to a real chance at a million dollars, just as the field for the Karaka Millions will do at 7.15 tonight.
Sadly, there will probably not be a Melbourne Cup winner.
Kiwi stayers have a long Melbourne Cup pedigree stretching from the first winner, Martini-Henry in 1883, and passing through some of the world's greatest horses including Carbine and Phar Lap, and lesser lights such as Kiwi, whose last to first run in 1983 still brings goosebumps when viewed.
Forty-one Kiwi horses have won the Cup and 28 of the last 50 have been stamped 'Made in New Zealand'.
The last was the grey gelding Efficient, by the champion Zabeel, who may be the last of his breed.
Faced with the European invasion of the past few seasons, even this old warhorse is struggling to foot it with the modern European stayers which, as a recent study in the Thoroughbred Owner & Breeder shows, are staying further and faster over all three Classic distances.
Two races this weekend highlight the direction the New Zealand thoroughbred is going. The richest race in this country is now a 1200m race for 2-year-olds.
The Wellington Cup, once one of a trio of great two mile races, was run yesterday over a shortened format at 2400m, with its former group one status downgraded to group three.
The two-mile Auckland Cup, once the blue ribbon event for the biggest meeting of the year, New Year's Day, has been replaced by a 2400m event, the City of Auckland Cup.
Though the 3200m Auckland Cup is still on the calendar, in March, and is of group one status, it is worth half what the field tonight will be running for.
In Europe, two miles isn't even the longest race at group one level.
Royal Ascot and the Prix de l'Arc de Triomphe meetings, the most prestigious in England and France, run the Ascot Gold Cup and the Prix du Cardran over a distance of two-and-a-half miles.
This not to say the New Zealand thoroughbred is a lesser animal now, or in less demand. In fact, the opposite is true.
The reality is the bloodstock industry is just that, an industry, and it is delivering a product demanded by clients.
The reason the staying horse is getting stronger and faster is that there are two markets in the UK and Ireland, and also in France, for flat racing and for the even more popular national hunt, or steeplechasing.
The demand for horses which can run distances over four-and-a-half miles, over jumps and in heavy ground is insatiable. They fetch very good prices.
National hunt races the whole year round, with up to five meetings a day. It is the second most popular sport in spectator terms in the UK and Ireland, where the big jumping festivals of Cheltenham and Aintree run for four days to packed houses.
The top steeplechasers and hurdlers are possibly bigger stars than their blue-blooded flat racing cousins.
Steeplechasing, though, has a minor presence in this part of the world, popular in just one Australian state, Victoria, where it is dogged by a vociferous band of animal rights activists. In New Zealand, there is effectively half a meeting a week over winter. In the other important markets for New Zealand thoroughbreds, Singapore and Hong Kong, it has no presence at all.
But while New Zealand may not produce the out-and-out stayer of yesteryear, it has been doing brilliantly with its new breed.
We have seen Karaka graduates So You Think and Little Bridge flying New Zealand Bloodstock's colours among the European bluebloods at Royal Ascot, where both claimed group one victories.
So You Think was also one of the favourites in one of the greatest tests of a thoroughbred, the Prix de l'Arc de Triomphe.
New Zealand 3-year-olds are still doing the job in Southern Hemisphere classic races.
New Zealand-bred horses and Karaka graduates won six Derbies last year - the VRC, New Zealand, Perak, Hong Kong, Singapore and South Australian derbies - making it a stunning 18 Derby victories since 2010.
While the Melbourne Cup may now be a few hundred metres too far, Karaka graduate Ocean Park claimed the fifth Cox Plate victory in the last six years for New Zealand horses.
In fact, New Zealand has bred 25 of the last 50 Cox Plate winners, the WFA championship of Australia and arguably the most important race for breeding in this part of the world.
Kiwi horses have won over a quarter of all Australia's group one three-year-old races since 2000 and a third of those over 2000m or more.
Karaka graduates won eight of the 11 2012 Hong Kong Champion Awards, including a clean sweep of the Champion Sprinter, Miler, Middle-Distance and Stayer Awards, plus the Horse of the Year crown.
Often a mark of a champion racehorse is its ability to perform through its classic 3-year-old season.
Group one races for this age include some of the turf's richest events and last season in Australia and New Zealand offered more than $18 million.
Indeed, a Melbourne Cup can be seen as a detriment to a stallion's career, and though So You Think ran a gallant fourth in his attempt in 2011, it may have counted against him joining Coolmore Australia's select stallion band as he has this year on his retirement.
So New Zealand Bloodstock's Karaka Yearling Sales, which begin tomorrow and run to February 4, are still a magnet for the top owners and trainers of Australia and Asia.
Last year, Australian buyers spent $32 million on New Zealand horses, while those from Hong Kong spent just over $12 million and Singapore owners a little under $4 million.
New Zealand trainers, who often have satellite stables in Australia and Asia, spent $25,851,300.
Sales are still down from the pre-economic crisis days of 2008, when $111 million was spent. But the ship has been steadily righting and this week buyers will be out in force looking for the next New Zealand champion.