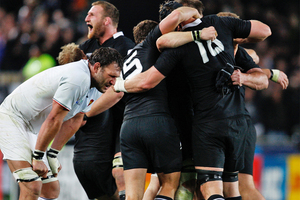 Tracey Nelson looks out out history stacks up ahead of the 52nd test between the All Blacks and France.
To date there have been 51 test matches played between New Zealand and France, with the All Blacks having won 38, drawn one, and lost 12. The last time these two sides met was in the Rugby World Cup Final, where the All Blacks prevailed 8-7.
The last time the All Blacks lost a test at Eden Park was in 1994, and it was against France. Since that day they have won 29 games there, and drawn one. The All Blacks' last loss on New Zealand soil was in Dunedin 2009, against South Africa.
France last won a test series in New Zealand back in 1994, winning the first test in Christchurch 22-8 and the second test in Auckland 23-20.
Under coach Philippe Saint-Andre France have a 46.67 percent winning ratio (seven wins, six losses and one draw), while under Steve Hansen the All Blacks have won 85.71 percent of their games (12 wins, one loss, one draw).
The All Blacks have scored 145 tries against France, and conceded 67. On average in test matches against France they score 24 points and concede 13.
Wayne Barnes has refereed the All Blacks in four test matches, of which the All Blacks have won three and lost one - against France, in the 2007 Rugby World Cup quarter-final.
The average age of the All Black side this weekend is 26, Keven Mealamu is the oldest at 34 while Sam Cane is youngest at 21. The average age of the French side is 27.
Only two of the All Blacks' starting 15 have more than 50 test caps, they are Ma'a Nonu (76) and Conrad Smith (66). France have two starting players making their test debut this weekend, number 10 Camille Lopez and winger Adrien Plante. Ben Afeaki and Jeremy Thrush are set to make their All Black debuts off the bench.
Andrew Mehrtens still holds the record for most points by an All Black in a test against France with the 29 points (nine penalties and a conversion) he kicked in November 2000.
If the All Blacks win this weekend it will be their fifth in a row against France. Their longest winning streak against the Tricolours is eight matches (30 June 2001 to 9 June 2007).