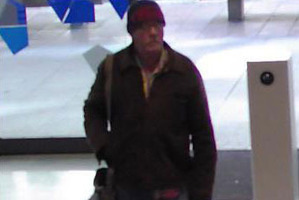 The key suspect in an aggravated bank robbery in central Auckland yesterday is still on the run.
A BNZ bank branch on lower Queen Street in Auckland was robbed of between $100 and $500 in the heist about 10.20am.
A CCTV image of a Caucasian man, thought to be in his 50s, who police believe committed the robbery was issued yesterday, however Detective Sergeant Nina Pedersen said he had not yet been apprehended.
An investigation into the robbery and the suspect's identity was continuing, she said.
"We're still waiting for some positive leads.''
Police were speaking to witnesses and examining the scene exhibits, Ms Pedersen said.
A fake plastic gun used the robbery was found discarded with a jacket in a bar toilet near the scene of the crime.
Auckland City Police communications manager Noreen Hegarty said the man presented a note and a gun to a teller and made off with a "small'' amount of money.
"There was a challenge, or an approach made to a teller.''
While in the bank the man was wearing a blue beanie with red writing on the front, reading glasses, a heavy, dark, long-sleeved jacket, blue jeans and black shoes, and was carrying a shoulder bag over his right shoulder, she said.
Moments later he walked around the corner into the Right Track Bar on Fort Street where he removed his jacket and beanie, Ms Hegarty said.
When he left the bar he was wearing a pink and yellow short-sleeved checked button-up shirt with a black, long sleeved t-shirt underneath, blue jeans, black shoes and a cream coloured sun hat.
The duty manager at the Right Track Bar said the suspect's jacket, complete with the fake gun used in the robbery, were found discarded in their toilets by a customer.
"Obviously we didn't know whose it was, but one of our customers brought it out.
"In the jacket was the fake gun that he had used,'' said the manager, who did not to be named.
She described the weapon used in the robbery as "just a black piece of s*** plastic gun''.
"It would have looked real from a distance, but not close up.''
BNZ spokesman Thor Bostelmann said a minimal amount of cash was taken from the premises during the heist.
No customers or staff were injured and BNZ offered its full support and services to those affected, he said.
The robbery did not affect operations at BNZ's head office, which is located directly above the branch.
- APNZ