Cirque du Soleil is bringing a version of its Michael Jackson show to NZ; at another there's a Kiwi at the helm, finds Leena Tailor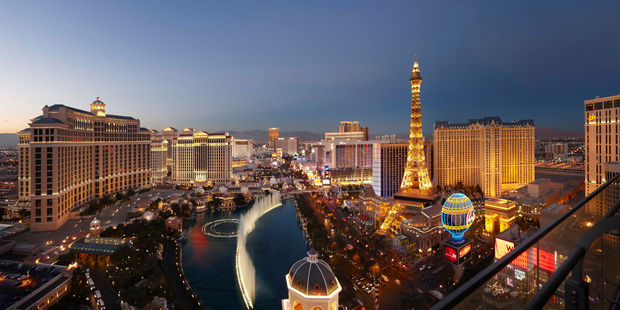 Parris Goebel was just a young girl when her father's love of Michael Jackson started rubbing off on her. As she danced around the house to Rock With You, the late music legend would become a defining force in the Kiwi's life. She forged a career in dance, which has seen her start her own hip-hop dance studio, tour with Jennifer Lopez, win numerous world championships and perform on American Idol.
Now, at just 21, the driven Aucklander is one of the creative masterminds behind one of the world's biggest tribute shows to the icon, Michael Jackson One.
Drawing the curtains for its world premiere in Las Vegas earlier this week, the Cirque du Soleil project fuses music, visuals and Cirque's signature acrobatics to take audiences on a journey with "four misfits on a transformative adventure", highlighting the music and life of the singer, who died four years ago.
Goebel was approached to join the choreography team, and her Kiwi dance troupe ReQuest Dance Crew is part of the 63-strong cast of performers.
"I know everyone on the planet is a fan of Michael Jackson, but my dad is a massive fan so I grew up on Jackson's music," says Parris at her Las Vegas base. "He had a huge influence on dance, especially in the hip-hop world, so to be a part of something with his name on it has been a huge honour."
The show is directed by leading pop concert director Jamie King, who started out as a dancer on Jackson's Dangerous World tour in 1992 and went on to tour with Madonna, Rihanna and Britney Spears. The 90-minute tribute features a string of Jackson hits, plus lesser-known songs like Speechless and Don't Walk Away'.
Unlike Cirque's previous Jackson tribute, The Immortal World Tour, this show features songs in their entirety.
The title, One, is a nod to the musician's everlasting message of unity, but the effect that stardom had on his life is not ignored. On entering the theatre, renovated specially for the show at the Mandalay Bay Hotel and Casino, the audience is quickly reminded of the media fanfare that surrounded the star. Screens flash fictional tabloid covers, such as the Weekly Rumor.
If the Las Vegas heat, late nights or endless miles of walking through giant casinos has taken it out of you, the opening act of the show awakens every sense, jolting you back to life with fireworks, laser lights and gold acrobats somersaulting through the air to the thrashing sounds of Beat It.
The pace slows down but the show keeps surging ahead. Breakdancers bounce off thin strips of tape, aerialists defy gravity and a pair of magical moon-walking shoes take on a life of their own.
The show's creators collaborated with Jackson's estate on the project, and Jackson's famous family make video appearances in acts featuring Janet and Michael's duet Scream and The Jacksons' hit I'll Be There, which plays while photos and video footage of young Jackson is shown on one of six giant screens.
The creative genius that comes with anything Cirque means no act is the same, whether it's dancers with screens attached to their bodies, synchronised trampoliners or the visually-stunning silhouette dance to Earth Song. The Kiwis feature throughout the show but most prominently in Can You Feel It and The Way You Make Me Feel sporting a rainbow array of bright pants and sparkly jackets while frolicking around a red car in a scene reminiscent of Happy Days.
Goebel turned down the chance to perform in the show so she could continue working on other projects. She says choreographing her girls involved constant changes and improvements, but she retained "50/50" control.
"They had guidelines and visions and they had each scene planned out with something they wanted me to go along with," Goebel says.
"But when it came to the choreography, they were very open and let me go with it. They'd say, 'We like that, we don't like that, change that,' and I'd go from there. Everything was constantly evolving. People got hired, people got fired. It was a little nerve-racking and at one point I was thinking, 'Lucky I'm not in the show!'
"But the whole experience was such a huge learning curve. I've never been a part of something for that long and with that much pressure, so every day I learned something new.
"The highlight was working with Jamie King. He's so good at what he does that being around him just made me grow and become stronger at choreography and directing. He's an amazing, successful person for a reason and I was incredibly inspired by him.
Hopefully one day I can be up to scratch with what he does."
Goebel believes it's her "fresh perspective" that she was able to bring to the production, but Director of Creation Welby Altidor says the Kiwi has a rare and natural relationship with dance.
"What's unique about Parris is that she has such a drive when she approaches a choreographic challenge. Some choreographers have a conversation with music and dance, but the music and the dance is in Parris. The artists around are inspired by her passion."
One's show-stopping scene comes to the tune of Billie Jean' a dazzling number featuring dancers wearing costumes illuminated with LED lights, which create a neon spectacle as they dart back and forth across the stage.
But it's the surprise in Man in the Mirror, which remains a highlight for most show-goers.
Kiwi ReQuest dancer Reimy Jones still pinches herself for getting to grace the stage every night during the song, which features a captivating Jackson illusion.
"I was a huge fan of Michael growing up," she says. "My number one dream was to dance for Michael and when I knew this would never happen, I was devastated. Clearly, I was wrong. In the scene with Michael's illusion, I do back-up - it's magical."


Mandalay Bay relaunch
This is some other world," declares one awe-filled club-goer as acrobats descend from all corners of the venue, captivating everyone as they elegantly float above the dance-floor, tumbling and turning to the thumping beats of one of the world's hottest DJs.
Throw in laser lighting, smoke machines and giant LED screens creating the illusion of floating through space and this is a nightclub experience unlike any other.
Alongside the launch of Michael Jackson One, Cirque marks its debut into nightlife with the opening of Light Nightclub, the first Cirque club in the world. It comprises a 3500sq m, three-storey hotspot, whose resident DJs include Skrillex, and an outdoor club, Daylight, which operates on weekends and holidays.
Both Light and Michael Jackson: One mark a grand overhaul of the Mandalay Bay Hotel and Casino. While One takes over from the hotel's previous musical The Lion King, the clubs fill a key gap in the resort's attractions. Until now it had catered to all markets with a wave pool, man-made beach, adult pool, shopping promenade, casino, concert venues, convention centre, health club, shark reef, bars and restaurants - everything but a club.
The addition of a nightspot also prompted the establishment of a place where revellers can get a bite to eat through the night. Citizen's Kitchen serves comfort food like southern fried chicken and lobster mashed potatoes day and night.
Coming months will also see the highly-anticipated opening of Japanese restaurant Kumi. The eatery boasts the culinary talents of Chef Akira Back, the man behind the Bellagio's fountain-side Yellowtail Restaurant and Lounge, where spicy crab sushi rolls come with popping candy, and tortillas and tuna collide to make a divine pizza. Back's new dining spot will feature a similar Japanese menu with a "Korean American twist".


More info
• cirquedusoleil.com
• mandalaybay.com
• thelightvegas.com
• daylightvegas.com
• citizenslasvegas.com
• kumilasvegas.com
• Cirque du Soleil brings its other Michael Jackson show, The Immortal World Tour, to Vector Arena from October 30 to November 3.