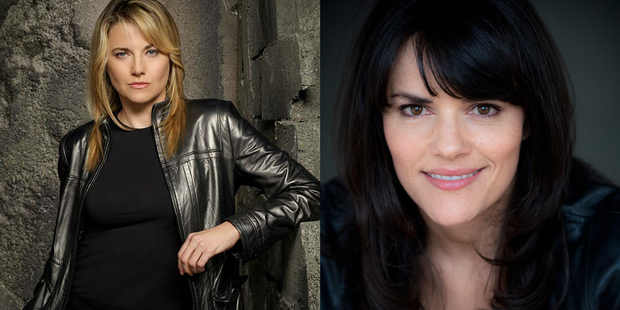 Actresses Lucy Lawless and Amanda Billing will be the leading ladies in Auckland Theatre Company's version of Chicago to be staged in November as their annual music production.
Lawless, above left, will be playing vamp Velma Kelly while Billing (best known as Dr Sarah Potts on Shortland Street) will be taking on the role of Roxie Hart in the dark and dirty tale of showbiz, intrigue, and murder.
Lawless' character is the one played by Catherine Zeta-Jones in the 2002 film and Zeta-Jones celebrated the 10th anniversary of the movie at this week's Oscars with a performance of All That Jazz.
Billing has been singing for many years - with the Wellington International Ukulele Orchestra,the Jubilation Choir, in productions such as The Threepenny Opera and Cabaret, but it's been a while since she's sung in public, so she's looking forward to getting back into it.
"Gosh yeah, those songs! Are you crazy? I'm ridiculously excited. I haven't actually sung properly in a while now, and this is a wonderful way to get back into it."
When rehearsals start later this year, she'll be reunited with the creative team who were behind Cabaret; Michael Hurst in the director's chair and Shona McCullagh doing choreography. This production should be equally inventive and intimate with the performance to be done "in the round" at Q Theatre.
Set in 1920s Chicago, the show centres around a merry band of murderesses at the Cook County jail. Two in particular, Kelly and Hart, aim to keep themselves from death row by doing deals with smooth-talking lawyer Billy Flynn, who promises to make them stars. It's the longest running American musical to play in the West End, and the film, which also starred Renee Zellweger and Richard Gere, won a clutch of Oscars, so you might say it's one of the defining American musicals.
"I think its popularity starts with the songs," Billing suggests. "It's a Kander and Ebb musical, and they know how to write amazing songs. They're just so catchy! But I think there's also something about the era that appeals to people at the moment, you know, Boardwalk Empire, Gangster Squad - it's exciting, it's rough, and it's dirty. And it can be very glamorous and glitzy, though I'm pretty sure our version will be a little darker than that if I know Michael."
Indeed the show deals with some heavy material, and you can expect the ATC show to dive right on in.
"It's based on real-life stories, about this boom of lady assassins, or female murderers, and the media circus that would follow them, and treat them like stars, and the fascination with these fallen women, and whether or not they'd be hanged. It's quite insidious. And I guess people are still fascinated by women who commit violent crimes."
Corruption, violence, exploitation, adultery, and showbiz - mix those ingredients with Billing, Lawless and Hurst, and songs such as Cell Block Tango, Razzle Dazzle, and All That Jazz, and it's bound to make for one hot show.
Chicago will run from November 1-November 24 at Q Theatre. See www.atc.co.nz for more info.
- TimeOut