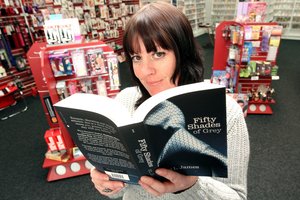 New Yorkers will this weekend get the chance to experience the Fifty Shades of Grey phenomenon live on stage.
50 Shades! The Musical, which provides a satirical twist on the best-selling novels, has already enjoyed a hit run at Chicago's Apollo Theatre.
The light-hearted take on erotica won over local critics, with the Chicago Tribune's Chris Jones admitting that "it was impossible to resist the fervour with which it was received."
The show, which features 11 original innuendo-packed songs, was conceived by Chicago-based improv troupe Baby Wants Candy.
It centres around a book club of middle-aged women who are reading the novel - a nod to the 'mummy porn' stereotype of the book - and then delves into a range of fantasy sequences, in which absurdest versions of Anastasia Steele and Christian Grey sing their way through various scenes.
Director Albert Samuels said the show aims to mix the allure of the erotic and the comedic.
"It's just packed with innuendo.
"It winks at the novel - but there's some sexiness, too. It's a super-fun time."
The musical is the latest in a long list of tie-ins spawned by the book.
For those looking to extend their Fifty Shades collection, there is a party game, an upcoming Universal Pictures movie and a literary parody called '50 Sheds of Grey'.
The trilogy, which has sold more than 65 million copies worldwide, also inspired a porn version, which quickly attracted a lawsuit.