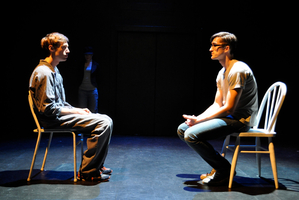 The Basement Theatre provides an appropriately intimate setting for a finely crafted piece of verbatim theatre - an increasingly popular form that has actors voicing transcripts of interviews to create a multi-viewpoint examination of social issues.
The original Laramie Project, exploring the brutal murder of a gay man in a small Wyoming town, is widely regarded as one of the finest examples of verbatim theatre.
The 10 Years Later sequel seeks to discover if the aftermath of the murder changed attitudes in the community of Laramie and the more elusive brief produces mixed results.
The intricately structured script includes the process of interviewing as a key component in the drama - effectively highlighting how the conventions of storytelling are embedded within the practice of investigative reporting.
The presence of the interviewers also brings some lively humour to the piece as hard-bitten Wyoming cowboys come face-to-face with the brightyoung things of the New York theatre world.
Less successful is a diversion into the struggle to obtain partner benefits for gay couples working at the local university and a recreation of a state legislature debate on gay marriage that is about as riveting as our own parliamentary broadcasts.
But with the appearance of the perpetrators of the hate crime, we get a taste of what makes the verbatim theatre so compelling.
Using an actor as a conduit for the words of a real person produces an experience that is very different from a videotaped interview.
The physical presence of a living actor engenders the kind of empathy and emotional catharsis that is at the heart of all great drama.
Director Katharine McGill demonstrates a masterful understanding of the verbatim form and the uniformly excellent cast do a great job in bringing to life a wonderful variety of real characters.