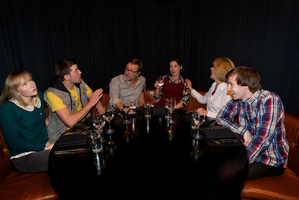 With award-winning shows in the West End and New York, young British playwright Nina Raine is a rising star of international theatre and Silo's presentation of Tribes suggests the hype is well deserved.
The play breaks new ground by having deaf characters in the leading roles but avoids the pitfalls of a disability drama by treating deafness as the catalyst for an exhilarating and highly entertaining battle of competing ideas.
The play drops us into the combat zone of a dysfunctional academic family who regard rabidly offensive insults as a way of showing affection. The cut-and-thrust of fiercely opinionated dialogue delivers some wickedly funny moments while stirring up provocative thoughts on language, identity, exclusion and belonging.
At the centre of the maelstrom is the self-contained presence of deaf son Billy, who is played with great subtlety by Leon Wadham. His performance conveys the resigned frustration of a highly skilled lip-reader who is unable to engage in the frenetically paced conversation that swirls around him.
The family pride themselves on treating Billy as if he is just the same as everyone else and this seems reasonable until a new world opens up when Billy's partially deaf girlfriend teaches him sign language.
The girlfriend's existence on the borderline between deafness and hearing is powerfully portrayed by Jodie Hillock, who expresses the emotional turmoil of her in-between status and beautifully demonstrates the eloquence of sign language.
As Billy discovers the expressive potential of signing, he challenges his family to learn the language and finds himself in an explosive confrontation with his father - a ferociously intelligent contrarian who is given a formidable presence through Michael Hurst's exuberant performance.
The other family members also establish themselves as wildly eccentric personalities with finely nuanced performances from Catherine Wilkin, Fern Sutherland and Emmett Skilton.
The play veers towards sentimentality but we are also treated to moments of potency that testify to the extraordinary emotive force of live theatre.
THEATRE
What: Tribes.
Where: Maidment Theatre until June 30.