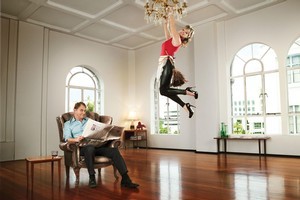 Broad offering from city's theatre companies displays a willingness to take risks, writes Dionne Christian
They've weathered the maelstrom of recession, survived a drop in audience numbers because of the Rugby World Cup and proved we want to see our stories on stage; now Auckland's theatre-makers are back to work after the summer break.
It is going to be a busy year with much available - from light "fair weather" entertainment to more provocative and avant-garde works.
One of the earliest events is the New Performance Festival (NPF), a first for Auckland. Organisers The Edge say the NPF will stage work that "transcends the gaps of artistic convention". It begins on Friday, February 17, and features 12 international and local artists.
The popularity of last year's Auckland Fringe Festival shows there is a market for more experimental art-house theatre, so it seems sensible to maintain the momentum with an event such as the NPF.
The city's biggest theatre companies have planned eclectic programmes which continue to show their willingness to take risks.
Auckland Theatre Company's season includes four home-grown works: new comedies by Dave Armstrong (The Motor Camp) and Roger Hall (A Short Cut to Happiness), a coming-of-age tale, Black Confetti, from hot young playwright Eli Kent, and a retelling of Bruce Mason's Awatea.
Its remaining shows are the controversial American work In the Next Room or the Vibrator Play, a lively rendition of Shakespeare's A Midsummer Night's Dream, The Gift by Joanna Murray-Smith and the musical Little Shop of Horrors.
A mix of the classic and contemporary, local and international did well for ATC last year. An art-house offering, On the Upside Down of the World, proved a surprise hit when it played in July and has since toured extensively.
Written by young playwright Arthur Meek, the one-woman show starred Laurel Devenie as the convention-defying pioneer Lady Ann Martin. ATC artistic director Collin McColl said it was heartening to see a home-grown story that was not a comedy doing so well.
"It demonstrates the appeal of heritage values and good storytelling in general."
It also demonstrates the value of nurturing new talent, something ATC is able to do through its Literary Unit.
This year the company teams up with Eli Kent, who, at 24, has already won two playwriting awards and, late last year, won an Arts Foundation inaugural national arts award.
McColl also enjoyed working with the Pacific Institute of Performing Arts (Pipa) on the kids' show Pollyhood in Mumuland at the Mangere Arts Centre; this year, they're teaming up for another holiday production, Sinarella. That will be followed in October by Tsunami: Galulolo, written by Goretti Chadwick and Victor Rodger as a tribute to loved ones lost in the tsunami that struck Samoa in 2009.
At Silo, which has dropped the word "theatre" from its name, artistic director Shane Bosher - inspired by a sojourn to New York last year - used a new philosophy when choosing plays for the year ahead.
Budget is usually his primary concern, but he opted instead to make a list of plays he wanted to stage and actors he wanted to work with, then worry about balancing the books.
"I think some of the work we've done recently has been a bit bleak," Bosher acknowledges.
Of the coming season he says: "These plays fulfil the 'Silo challenge' in that people have a really good time but they still leave the theatre with something to think or talk about or with something that stays with them."
First up is Top Girls, Caryl Churchill's modern classic about gender politics and corporate culture. Danielle Cormack heads an all-female cast in a play Bosher describes as audacious.
Peter Elliott plays the family patriarch in Nina Raine's Tribes, a follow-up to her drama Rabbit, which was huge for Silo in 2008. Then in August is The Pride, a "grown-up" play which examines changing attitudes to love and sexuality.
Bosher has thrown a curve ball by programming Noel Coward's comedy Private Lives, with Sophie Henderson and Mia Blake in the leading roles. He says it follows Silo's popular re-visioning of Moliere's Tartuffe and it made sense to him to position the comedy of manners, written in 1930, from a contemporary vantage point. The company ends the year with Brel, a cabaret noir starring Jennifer Ward-Lealand and Tama Waipara.
There has been some criticism about the lack of local plays staged by Silo. Bosher says he is not going to be tokenistic and use a sort of quota system, but will gladly look at local plays which are robust and demand a conversation with an audience.
"I think there exists the perception that I'm not interested in programming New Zealand work but that's not the case. I'm interested in stories that speak about the contemporary world, that have a new perspective on something, that talk about the way we live our lives and the moral compromises we make, the choices and the repercussions.
"I take the point that we have programmed a lot of work from Australia, but if we take Ruben Guthrie as an example, had I seen a local play like that I would have put it on the programme in a flash.
"The fact is that's not the sort of work I'm seeing."
Bosher points out that Silo doesn't have the resources of ATC to nurture new playwrights but the company will dedicate much of the year to developing two new works for 2013-14.
The first is a new play by Victor Rodger; the second a work by Arthur Meek.
This could be the year small, independent Outfit Theatre Company makes it bigger. Established in 2007 by a group of Unitec graduates, the company has gained a reputation for lively, visceral works featuring large casts.
This year it begins its first subscription season, which includes the New Zealand premiere of British play Punk Rock, nominated for Best New Play at the 2010 Theatre Awards in Britain.
Outfit's season also includes The Factory Floor, its annual double-bill of work-in-development, a retelling of Alice in Wonderland for the July school holidays, the return of last year's award-winning Fringe Festival production The Sex Show and a devised Christmas comedy called A Family Christmas.
New indie group The Last Tapes Theatre Company is producing The Last Five Years at the Herald Theatre in March with Australian musical theatre star Tyran Parke and newcomer Cherie Moore in the leading roles.
Described as a contemporary musical theatre piece, it's a new take on the boy-meets-girl/love lost story.
Expect to see new plays, too, from Massive Company, who are at Q in April with The Brave; Michael Hurst's eagerly awaited solo show Frequently Asked Questions, also at Q as part of a double bill with Ian Hughes' Ship Songs; Michael Frayn's Copenhagen staged by Northern Lights Theatre at Tapac with Jennifer Ward-Lealand and Cameron Douglas in the leading roles and, also at Tapac, Beautiful Losers by Mike Hudson.
The hugely successful Indian Ink company lands at Q in July with a back-to-back season of The Guru of Chai and Krishnan's Dairy.
Company founders Jacob Rajan and Justin Lewis have been busy with international tours and working on a film script for Krishnan's Dairy.
The opening of Q, combined with Auckland's existing central city and suburban theatres, means an improvement in the range of venues.
For emerging companies, the Basement, Tapac (The Auckland Performing Arts Centre) and Q's Loft continue to provide much-needed smaller spaces.
Silo, for example, will perform at Q, the Maidment, the Herald Theatre and the Town Hall Concert Chamber.
ATC will open its new waterfront theatre in the Wynyard Quarter next year. It will include a 600-seat auditorium as well as a 200-seat studio space.
New venues, companies and festivals mean it is an exciting time for Auckland's theatre-makers and audiences.
However, funding continues to pose problems with a number of the smaller but growing independent companies missing out on grants for their projects.