They're shocking. They're smelly. They're stupefyingly stupid. Danielle Wright meets the stars of Roald Dahl's The Twits theatrical adaptation.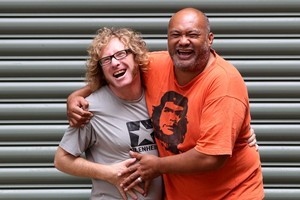 Sweet Christmas theatre with a moral ending is all very well, but if you really want to entertain your kids, take them to see something disgustingly good - The Twits at Q Theatre, starring Te Radar (Global Radar) and David Fane (Outrageous Fortune), who bring the wonderfully revolting Mr and Mrs Twit to life in a wildly physical production, ending with the pair upside down on their roof.
I'm talking to them in the cafe at Q Theatre and they are squabbling a bit like a real married couple, while Fane eats his breakfast.
Fane was chosen as Mrs Twit, he says, simply because: "I have bigger boobs than Te Radar and no woman could be this ugly!"
Te Radar is quick to point out, like a good husband: "But you're beautiful on the inside."
Actually, Fane does look quite pretty as a woman on the flyer, even though he is standing on his head. Once on stage though, he's hoping no little child goes away without being terrified into doing whatever its parents ask - at least for the car journey home.
As the bumbling Mr Twit, Te Radar has an affinity with his character and says: "He's thwarted a lot - a bit like George Roper in George and Mildred - all these plans he has and they always fall apart - I can relate to that, as well as his love of eating poultry."
The wicked pair entertain on a madcap adventure as they train their acrobatic pet monkeys to be part of their crazy, upside-down Monkey Circus and hatch evil, disgusting plans for catching birds to stuff into an enormous Bird Pie, all while being as downright nasty to each other as they can be.
This is all played out on a wonderfully imaginative set created by visual artist and designer Tracey Collins.
"The caravan is my favourite part of the set," says Fane. "It's a piece of art, if people turn up just to see the caravan, with its very Polynesian feel, they will go away happy."
The music is also a standout part of the show and directed by Jason Te Mete, who has musically directed many successful productions in the past and has a strong idea of what he wants.
"It's stunning," says Fane, genuinely excited. "We did come to him with ideas at the beginning but he said no to everything we suggested, it's all the better for it."
Te Radar gets to sing for the first time on stage and says: "No one has let me do that before. I turned to stand-up because I was never allowed to sing so always got the job as narrator in school productions - my lack of singing ability is actually what made me centre stage."
Other cast members include Kip Chapman, Harry McNaughton, Andrew Grainger, Sia Trokenheim, Sarah Graham, Anna Julienne and the talented kids of Balmoral School. It's directed by Alison Quigan and adapted by David Wood for the Auckland Theatre Company.
"The other cast members are the stars of the show," says Fane, modestly. "I get puffed out after 10 minutes, but the Mugglewump Monkeys are vigorous for the whole show."
And let's not forget the audience, who are such a big part of making the atmosphere of a children's show special and are encouraged to dress up in costume on the day.
"Children are the most unforgiving as an audience," says Te Radar. "Any child recognises good from bad and it will be great to see what parts they respond to the most."
A rehearsal for a group of Somalian refugee children was delightful, they say, especially watching the children's eyes light up.
Fane's youngest son saw half a scene with the Roly-Poly bird in it and talked non-stop for three hours about it, which bodes well for the production. Fane has played Simon Callow's audiobook version with his son, who can't wait for his dad's show to start.
For a change, adults will enjoy children's theatre as much as the kids, and if you don't have a child to bring, borrow one for the day, it will be worth it.
Join the twins
Book through Q Theatre, 305 Queen St, Auckland, until at least December 18 but may extend. Tickets $28-$32 with group discounts available.
Go to the Auckland Theatre Company website, download a colouring-in competition of The Twits and go into the draw to win an iPad2.