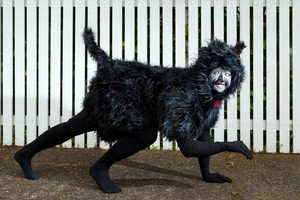 Sharp and piercing, a cat's caterwaul echoes round MacKelvie St, just a stone's throw from cosmopolitan Ponsonby Rd where, one imagines, noises like that aren't commonly heard - at least not at 11 o'clock on a Tuesday morning.
Approach the Seventh Day Adventist Church and the sound intensifies, followed by a couple of dogs barking. Clearly something has set them off, but it's not what it seems.
The hall is one of many around Auckland - some warmer than others - where actors rehearse.
Enter, and you're confronted by actor Courtney Chittenden, wrapped up in several layers of clothing and perched on a plastic chair, doing a very believable impression of a cat in peril.
Meanwhile, diminutive circus performer Sarah Houbolt lifts her face out of a blue plastic dog's bowl to act the part of a small canine curious about the yowl. Houbolt looks to have completed a flawless performance and scampers off but is called back because she's forgotten her line: "Yap, yap, yap."
Children's theatre master Tim Bray, choreographer Linda McFetridge and eight dexterous actors will spend the next 90 minutes working their way through just six pages of the best-selling children's book Hairy Maclary's Caterwaul Caper by Lynley Dodd.
It is one of seven stories Bray is using in his company's latest school holiday show entitled Lynley Dodd's Hairy Maclary. He has wanted to stage the Hairy Maclary stories for years, but the rights only became available recently.
With plenty of time to think about how he would take the stories to the stage, Bray wanted the characters to be played by actors, so the audience could get a sense of Hairy Maclary and his friends coming to life.
So convincing are the performances that Honey and Gucci, two pet dogs watching rehearsals, leap up from time to time to see what's up with all the barking. They've proved to be valuable role models for the actors, who have spent time observing how the dogs move and interact.
Bray is hesitant to use the word "trepidation", but acknowledges he experienced a certain amount of anticipation when rehearsals started.
"These books come with such mana so it's a huge privilege to be able to bring them to the stage. The pedigree of the stories is so strong that we're directing them as we would any other script, even though we're using the words from the books."
He and McFetridge watch every move and listen for every bark and meow with ferocious concentration. They don't want to put a foot wrong, especially given that most Kiwi kids (and grown-ups) know all about Hairy Maclary from Donaldson's Dairy.
The little black dog has been a phenomenon since 1983, when Dodd published the first book in a series which now includes 12, with Hairy Maclary - breed not specified but thought to be some sort of small terrier - as the central character. There are more stories about the exploits of his friends and foe, Scarface Claw aka the Toughest Tom in town.
Around five million of the books have sold worldwide and they're especially popular in Britain. Right now, there's a British children's theatre company touring that country with a production starring Hairy and his doggie friends. It follows sell-out shows at last year's Edinburgh Fringe Festival.
Local productions include a musical version which toured New Zealand in the late 90s and early 2000s, with Jackie Clarke singing her way through the books. Bray's show differs in that it's not a musical, although there is music in it, and he's using real actors to play the celebrated canines.
They don't have lines, except for woofs and meows, allowing them to focus solely on personifying the pooches or, in Chittenden's case, the cats Scarface Claw and Slinky Malinki. Georgia Duder narrates, reading eloquently from each of the books in the one-hour show. She also plays the few human roles.
As effortless as the actors make it look, it's not. The cast - including Tom Wardle, Kevin Ng, Adam Burrell, Sam Berkley and Natasha Yusoff - wear knee and hand pads plus wrist braces under their costumes.
Bray says he looked for performers with an "intrinsic energy" and stamina. In turn, the cast say they were attracted to the production because of its physicality and the chance to challenge themselves by portraying such iconic literary figures.
Meanwhile, children's theatre and television writer Michelanne Forster has been busy, too, in preparation for the school holidays. Forster has given a contemporary local twist to a traditional tale from Germany's Alpine villages to create The Butcher and the Bear.
Directed by Sally Blackwood, co-artistic director of Jigsaw Theatre Company, one of Australia's leading theatre companies for children, and a director for Opera Australia, The Butcher and The Bear is aimed at children aged from 4 to 8 years old.
Set in the Waitakere Ranges, it's a fable about Bear, whose friend Bird hurts her wing, meaning he must travel to a village to find medicine. But Bird (Josephine Stewart-Tewhiu) isn't too keen on that idea because she knows the Village Butcher (Jonathan Brugh) is after Bear. It means Bird may be the one heading off on a rescue mission.
Bronwyn Bent, producer of Time Out Theatre at The Edge, says one of the highlights is having an authentic Roma band, Miro's Gypsy Strings, on stage to provide the music.
School holiday theatre
What: Lynley Dodd's Hairy Maclary
Where & When: PumpHouse Theatre, October 8-22
What: The Butcher and the Bear
Where & When: Herald Theatre, October 8-15