Once a munchkin himself, the director of the latest reincarnation of Oz tells Dionne Christian why he wanted to bring the Emerald City to a new generation.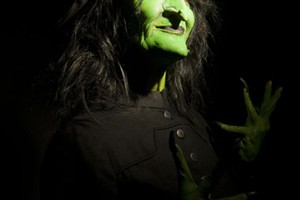 The Wizard of Oz - with wicked witches, flying monkeys and unlikely heroes in search of courage, heart and a brain - is such a part of pop culture that most of us can skip down a yellow-bricked memory lane and easily conjure up a childhood image of the show.
Whether it was performing in a school production or watching the film on television, we know the characters and the story of how Dorothy and her dog Toto find themselves out of their native Kansas and heading "off to see the wizard" with a scarecrow, tin man and cowardly lion as travelling companions.
Then, of course, there's the Wicked Witch of the West who terrified some of us so much we were forced to cower under blankets. Luckily, theatre director and sometime TV3 reporter Jesse Peach has happier memories of the musical fantasy.
Peach was 7 when he played a munchkin in a community production and says although he was probably one of the quietest kids, the experience made such a positive impression he decided his future lay in theatre.
Now he's far from his West Auckland home and responsible for one of the largest productions of Wizard Auckland has seen.
He's working with some of the country's best theatre designers and a cast that is a who's who of the local entertainment industry: Raymond Hawthorne as the Wizard, George Henare as the lily-livered lion, Tina Cross as a chorus queen and radio DJ Robert Rakete as a guard to the Emerald City.
Peach has also recruited 90 kids to play the roles of munchkins, monkeys, soldiers and Emerald citizens. He's adding to the mix by including live animals on stage like Poco, the black terrier-cross chosen from 160 dogs in a "Search for Toto" competition to play the famous pooch that goes with Dorothy (Olivia Tennet) on her big adventure.
That Peach has so much - or many - to think about, it's hardly surprising he didn't consider whether approaching two of the country's most glamorous female stars to play witches might be misconstrued.
But rather than being offended, Lisa Chappell, best known for her star turn on the Aussie TV series McLeod's Daughters, and opera diva Helen Medlyn were delighted.
"They're good character parts," says Chappell, who later confesses she would also have happily played the scarecrow. "I tried to get Jesse to agree by walking up to him at parties and wobbling my limbs in his general direction but he didn't take the hint."
Chappell reckons she's one of the few people who didn't watch The Wizard of Oz as a child but was introduced to it at drama school - while Medlyn, like Peach, was a munchkin in a children's production.
She can still belt out the tune she got to sing word and pitch perfect, but this time Medlyn doesn't sing. She's the Wicked Witch of the West while Chappell gets to be all sweetness and light as Glinda, the Good Witch of the North.
It's Chappell who bursts into song - and that's got her feeling a tad nervous.
"I am pathologically scared of singing in public, so that's going to be interesting."
This from the woman who, back in 2006, released an album - When This is Now.
"Well, that was different. It's a different style of singing and those were my songs about my stuff, so I thought I was qualified to sing them."
Meanwhile, Medlyn is concentrating on making the Wicked Witch a more rounded character.
"I'm channelling everyone from the alien in the Alien movies to movie star Gloria Swanson and Kim Cattrall, who is Samantha in Sex and the City. I want her to have a latent rather than overt evil, to be someone who you know is an enemy but someone who's just a little bit sassy and sexy as well."
She might add toning down the evil could be useful given there will be a high proportion of kids in the audience and no one wants them so frightened they flee the theatre before half time.
That, say Chappell and Medlyn, would be unfortunate because they'd miss out on not just the magic of Wizard but also on its message.
"It's about home and family and friendship and how you can pick yourself up when the chips are down and make the best of things. It's about the importance of learning to be yourself, of accepting who you are and learning to live and work with your foibles," says Medlyn.
Peach just wants audiences to be as enchanted as he was as a child.
"It is about believing in yourself and that anything is possible - and when kids see other kids on stage doing their thing, hopefully it will spur them on."
LOWDOWN
What: The Wizard of Oz
Where: The Civic, Auckland\
When: Saturday, Sep 10 to Sunday, Sep 18
*The Wizard of Oz also stars Nic Kyle, Kristian Lavercombe and Turanga Merito.
- TimeOut