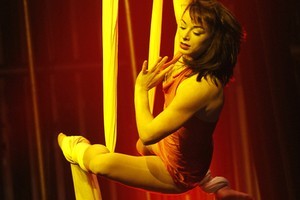 Friday night drinks?: Depends if there's an early show the next day and if there is more than one, but I usually stick with the same. I'm a fan of chardonnay, wherever it is.
Where I'll be wearing my new: Sandals. I bought them at one of the Turkish markets which are all over Berlin for €7, but don't tell anyone.
And this weekend I'm planning on: Watching a good variety show and spending time with my 5-year-old daughter.
But first I'll need to refuel at my favourite cafe: Caras at Hackescher Markt in Berlin. Sitting there and watching all the fashion hipsters, tourists and creative people is better than going to the cinema.
Saturday evening. If my dreams came true there would be a gig by: Michael Jackson, first row. RIP, Jacko.
But if there's nothing else doing I'll probably just: Search for a new apartment in Berlin.
On my stereo/headphones right now is: ZAZ, a French singer. Great music for the Berlin summer.
The books I can't put down are: Anything from Marguerite Duras.
The TV show I take the phone off the hook for: Most of the time I cannot follow the shows at regular times since I often work in the evening or am in a different country. And I've been good because I haven't rented any in a long time ... when I watch a series I am like an addict! I have to see all of them until the middle of the night. I really liked Prison Break, Nip Tuck, Sex and the City - girly stuff.
The movie I've been dying to see: Too many - I don't have much time for this pleasure, being a single mum.
A non-cooking Monday night means takeaways from: Vietnamese would be awesome.
Or a splash-out Wednesday night restaurant would be: A nice, cosy place with good company.
*Faon Shane performs in Soap: The Show at The Civic from August 23 to 28.
- TimeOut