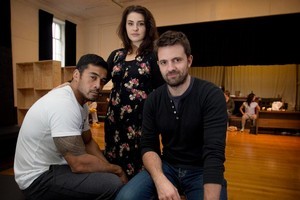 Director Jesse Peach has pulled off a remarkable coup in enticing New Zealand's most acclaimed choreographer to join an Othello dream team that includes composer Gareth Farr, screen star Robbie Magasiva and a superb company of actors.
The gamble pays off handsomely as Douglas Wright's choreography and Farr's music add an exciting new dimension to the work. Their contributions rigorously interpret Shakespeare's text rather than provide embellishment.
Exquisite dance fragments offer a commentary on the characters' internal emotions while alluding to the play's deeper themes. The choreography focuses on the way outer appearances prevent all of the characters from truly knowing themselves or understanding each other.
In a recurring motif, the dancers pull clothing over their faces creating a powerful series of images that speak to the profound sense of incomprehension that lies at the heart of the drama.
Robbie Magasiva's Samoan Othello is utterly convincing. His imposing presence leaves us in no doubt he is a man who could command the Venetian armies. Explosive outbursts of emotion effectively convey the dangerous madness of inflamed jealousy.
Matt Minto's portrayal of Iago is a wonderfully nuanced study that suggests the casual banality of evil. His delivery of the soliloquies engages the audience with a familiar, confidential tone that makes us feel we are complicit in his deceptions and intrigues.
Morgana O'Reilly presents a highly spirited Desdemona and summons up frighteningly real emotion as she fights off her murderous husband.
George Henare's finely judged performance gives voice to the virulent, atavistic racism that is aroused when a treasured daughter chooses to marry outside of her tribe.
The ensemble cast all deliver strong performances, and Jesse Peach skilfully utilises the oblique angles and enhanced perspective of Emily O'Hara's superb sets.
The idea of Iago as puppet master is possibly overplayed as it creates the impression that the noble Moor was simply victimised by diabolical forces and minimises the complexity of his struggle to forge an authentic identity in a hostile environment.
But any quibbles about interpretation are swept away by the exhilarating physicality and compelling intensity of this marvellous production.
What: Othello
Where: Maidment Theatre
When: Until August 13