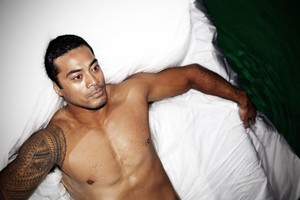 Peach Theatre Company's production of Othello marks a turning point for master choreographer Douglas Wright. Wright has long preferred to make his own opportunities, turning down requests to collaborate on all manner of projects so he can control his own destiny.
Now, for the first time in decades, he is working in partnership, not on a dance work, but with theatre director Jesse Peach on a "raw, stripped back and sexually charged" version of Shakespeare's Othello.
The production uses movement to clarify, intensify and emphasise the characters' actions in a manner Wright says augments and delineates Shakespeare's words rather than dominating or undermining them.
"It is more physical theatre, I would say, than dance. It gives the language its space. It was Jesse who really decided where he thought dance or movement should go and the more we discussed it, the more I started to see ways where I could help."
He was surprised when Peach approached him, saying he believed it was widely known he simply didn't team up with others.
"Either Jesse didn't know that or decided to ignore it and ask anyway. I just thought, 'why not?' and so far it's working incredibly well. As a writer, I revere Shakespeare and it is a gift to work - you might say - alongside him."
Peach decided early on he wanted to incorporate movement into his version of Othello and figured he had nothing to lose by asking the best in the business to assist.
"You could say the stars aligned because Douglas told me he had been re-reading some Shakespeare."
Peach says if movement was to be a feature then music needed to be too, so he contacted acclaimed composer Gareth Farr to write the score.
Wright recently received high praise for his work RAPT at the Auckland Arts Festival and Farr has been confirmed as the official composer for the Rugby World Cup.
Peach says he wants an Othello for contemporary audiences used to multisensory experiences of which music and movement are a big part.
Whereas some would be reluctant to modify a Shakespeare script, he has decided cutting certain details and scenes to focus on the doomed romance between Othello and Desdemona would be more appropriate.
"It will be about two hours long because I honestly don't think modern audiences enjoy theatre - or film - which runs much over that. Of course, there are exceptions but not often. I hope it will be two fantastic hours rather than three or four."
One of Shakespeare's most performed works, Othello tells the tragic story of a black Venetian general who secretly marries Desdemona (Morgana O'Reilly) who is white and incurs the wrath of Desdemona's father Brabantio (George Henare).
At its simplest the play appears to be a story in which Shakespeare uses inter-racial marriage to examine Elizabethan attitudes to race.
With the exception of Paul Robeson in the 1940s, it is only in recent years that black actors have portrayed Othello.
More commonly it's been a white actor - think Laurence Olivier, Anthony Hopkins or Patrick Stewart - "blacked up" for the part.
Robbie Magasiva, who stars as Othello in the Peach Theatre Company production, says maybe that's because there weren't enough black actors around at the time.
But as Magasiva, and the rest of the cast point out, Othello raises wider questions regarding honour, social isolation and the treatment of those perceived to be outside the mainstream.
Othello's arch enemy is Iago (Matt Minto), an army officer whom he passes over for promotion in favour of the younger Cassio (Matt Walker).
Enraged, Iago develops a deep-seated hatred for Othello and determines to destroy his relationship with Desdemona by suggesting she is having an affair with Cassio.
Unable to bear the thought that his beloved Desdemona has been unfaithful, Othello is driven to murderous madness.
Working on Shortland Street as Dr Maxwell Avia, Magasiva is one of the country's most recognisable and popular actors but he's never appeared in Shakespeare.
Faced with the prospect of taking on one of the greatest roles in theatre, he's excited and nervous.
But Peach's Othello is a collaborative production - as demonstrated by the involvement of Wright and Farr - and that extends to the support the actors are giving one another.
George Henare, who has played Othello twice and now stars as Brabantio, has become a mentor working with Magasiva "line by line" to ensure he perfects the role.
Henare, who played school teacher Hector in Peach Theatre's The History Boys, uses a modified version of the play's most famous line to describe his input.
"Pass it on, you've got to pass on your knowledge and I've played Othello twice before.
"I know it is the most rewarding and wonderful role but it means going on a big - a huge - emotional journey and I don't think I want to climb that mountain again."
Some have labelled Othello Shakespeare's greatest hero; others say he is a romantic fool.
Magasiva can see both points of view and intends portraying him as worldly wise in military matters but less so in those of the heart.
"Desdemona is his first love and he's unfamiliar with those feelings. He's given his heart to someone for the first time and he thinks they're turning around and squashing it.
"The only thing he truly knows is how to be a soldier, how to fight and how to kill so it is natural that that is the way he reacts."
The English drama critic Sheridan Morley once wrote that Desdemona is often played as a "relatively demure, fluffy little thing whom almost anyone would be tempted to strangle".
Laughing at the description, O'Reilly says she'll play Desdemona with a little more fire; an everywoman who makes her own decisions - after all, she went against her father to marry Othello in the first place.
Similarly, Minto wants Iago to be more nuanced.
"He has an irrational hatred of Othello. He hates him because he is successful as much as he hates him because he is black.
"It is more complex than Othello's race and while I do want that to come across, you can't get away from the fact that Iago is a villain."
* Othello also features Olivia Tennet, Ken Blackburn, Gypsy Kauta, Kevin Keys and Ciarin Smith.
Performance
What: Othello
Where and when: Maidment Theatre, July 22-August 13