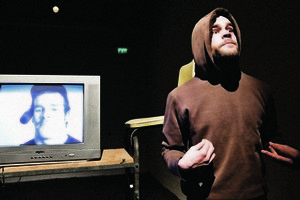 This solo show about a homeless man hinges on an intriguing theatrical device - talented caricaturist Tim Carlsen as Moko skilfully interacts with several other characters (also played by Carlsen) who appear on a TV monitor.
As such, the play links the subject of Homeless Economics and last year's more avant garde Providence with the screen/live staging mix of Biography of My Skin.
In other ways, Moko is a less surreal and more serious version of the naif Angus in the Fringe Festival's The Hermitude of Angus, Ecstatic.
Moko's black and white telly cleverly provides Auckland street scenes and ambient noise, and the action is repeated, rewound, sped and slowed to reflect Moko's confusion. In a particularly telling moment, Moko turns away from the audience and pulls back his hood for the only time. We see his reflection in the all-white TV screen as he sings, imagining life as a famous crooner.
Carlsen is extremely quick-witted and has sang froid and a fabulous rapport with his audience, as evidenced during a technical stuff-up on opening night when the DVD stopped working. "Sort it out, eh?" he said in character to director Sophie Roberts, and while she sorted it, he took song requests as Moko-the-busker.
But sometimes it was unclear whether the audience was being asked to laugh at or with Carlsen's street-accented depiction of a homeless, possibly mentally unwell Maori man.
Carlsen has volunteered with homeless organisations and Moko's brief monologues sound true to life, but the depiction of homelessness seems a little clean and tidy.
But, at $20, Carlsen's debut devised play is a showcase of his fine performance talent.
What: One Day Moko.
Where: The Basement, Greys Ave.
When: Until Saturday 2 July.