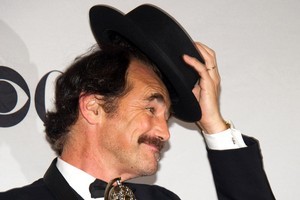 British actor Mark Rylance doesn't do conventional speeches. At last Sunday's Tony Awards in New York, he chose to accept his best actor trophy for his part in Jez Butterworth's acclaimed play Jerusalem by reciting an obscure poem by Minnesotan poet Louis Jenkins.
"Unlike flying or astral projection, walking through walls is a totally earth-related craft, but a lot more interesting than pot-making or driftwood lamps," Rylance told a bamboozled audience at the Beacon Theatre.
Despite being one of the most critically acclaimed actors of his generation, Rylance, 51, is by no means a household name. Yet he is increasingly winning attention for his enigmatic public behaviour, whether it is reciting poetry at award ceremonies, being spotted out and about in character in cities where he is playing parts, or indeed disputing the authorship of plays previously attributed to Shakespeare. While artistic director of Shakespeare's Globe, a post he filled from 1995 until 2005, he said he believed plays ascribed to the Bard were actually penned by a group of 16th and 17th-century writers. Those who know him say he is an eccentric - but ascribe much of his odd behaviour to his shyness, strong work ethic and humble character.
"There has to be a shield to deal with the strange ego challenges of an awards ceremony," said Ian Rickson, who directed Rylance in the original production of Jerusalem at the Royal Court in 2009. "His shield at Sunday's Tony awards was gnomic poetry." Rickson said Rylance doesn't enjoy the attention and trappings of fame: "He mistrusts it," said the director. "What does it mean?"
Rylance was born in Ashford, Kent, in 1960. He acted in Shakespeare at school, before enjoying a prodigal rise: a scholarship to the Royal Academy of Dramatic Art, performances with the Royal Shakespeare Company, a burgeoning film career, appearing in Gillies Mackinnon's 1991 film The Grass Arena.
Rylance's off-stage passion is mirrored in his stage work. While preparing for his original role in Jerusalem in Britain, Rylance had a tremendous work ethic, meeting people from his past who reminded him of Johnny "Rooster" Byron, his character in the play, and visiting Pewsey, in Wiltshire, where the play is set.
Rickson confirmed that Rylance tended to stay in character between performances. "The thing is, I know him as a friend," continued Rickson. "In real life I see him as authentic, not performing. He is someone who is very humble, who doesn't take anything for granted, he is very spiritual about what he does, in terms of what he opens himself up to for a role. Maybe this includes transcending who he actually is when he morphs into a character. He is mercurial."
Rickson added that Rylance is very "spiritual" and his free-spirited tendencies tended to go against the pomp and self-congratulation of award ceremonies.
- INDEPENDENT