The sequel to Phantom of the Opera has hit Australia and it is a treat for the ears and eyes of Lloyd Webber fans, writes Carol Smith.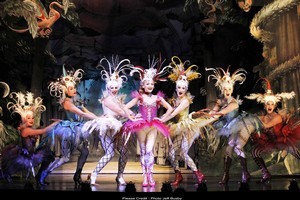 Phantom fans rejoice - the music of the night has returned to Australasia.
The biggest star in theatre has stopped haunting the Paris Opera House and is now brooding in Coney Island, overseeing the freaks of the circus.
I stopped in to see him on the opening night of Love Never Dies at Melbourne's Regent Theatre and still found him darkly seductive. His creator, composer Andrew Lloyd Webber, was so excited after the show - the first time in 20 years Australia has not seen the British version of one of his works - that he declared there had better be an immigration lawyer in the house, as he wanted to move to Australia.
He wasn't completely happy with the London production of this Phantom of the Opera sequel, but he said the Australian production was "everything I had hoped for".
Lloyd Webber arrived about a week before the official opening and was so inspired by what the Aussies were doing, under the direction of Kiwi Simon Phillips - who was given "carte blanche" to create a new production - that he started writing a bit more music to squeeze into the already substantial score.
This sent the Phantom, played by Ben Lewis, into a tail spin and at one point he had scrawled some extra lyrics on the back of his mask.
"He gave me new lyrics. I went to dinner and couldn't remember them and there is a part where I took off the mask and read the lines off the back. I was glad I hadn't sweated them off," said Lewis, who has the chops to carry these emotionally demanding songs.
For those of you who thought the Phantom was dead - wake up and smell the Melbourne coffee. He faked his death and fled Paris, leaving his fantasy woman, soprano Christine Daae, to marry rival Raoul. Madame Giry and her daughter Meg helped him escape France and settle in Coney Island, New York, where he has become the owner of a pleasure ground.
Roll on 10 years to 1907 and his love for "my Christine" is still strong. Her marriage to Raoul, who has transformed from a respectable vicomte to a drunken gambler, is rocky and when the mysterious Mr Y invites her to New York to sing for lots of filthy American money she jumps at the opportunity.
She, Raoul and their 10-year-old son Gustave (you do the maths) arrive to find the Phantom lives and is not about to go away quietly again. Thank goodness, because I (and many other millions who adored the Phantom of the Opera) weren't that excited about Raoul, and his pitiful decline won't earn him fans in this show.
But who knew that the Phantom and Christine had shared a consensual night of passion? I must have fallen asleep somewhere during the original. Ah, well, creative licence.
With the sequel - a risky move when the first show is the most successful musical in history, running in the West End for 25 years and on Broadway for 23 - we get to see the Phantom throw his mask in the ring once more in an attempt to win Christine's heart.
Frankly, I was worried, as I'm not a fan of sequels. But as the curtain rose and the opening number 'Til I Hear You Sing began, I knew I would fall in love again.
You can't compare this show with the first, so accept it in its own right and enjoy the journey. Lloyd Webber, a theatrical genius, has supplied his magic touch to these haunting, romantic melodies and you can hear chords from the Phantom cleverly blended into some of these new songs, which include two beautiful duets sung by the Phantom and Christine, Beneath a Moonless Sky and Once Upon Another Time.
I'm not sure what some Londoners were listening to when their version of the show opened last year - one theatre-goer quipped he didn't care who lived or died, he just wanted to catch the train home. Not a true fan then.
This production, put together in a head-spinning four months, is lavish and beautiful thanks to the set and costume designs of Gabriela Tylesova.
A huge Luna Park-style archway, with the Phantom's mask sweeping from the centre around the left of the structure and an eyeball which frequently changes colour on the right, features prominently on the stage. Circus freaks hide in glass pillars, there's a carousel and a background drop of a rollercoaster scene in twinkling lights bewitches the audience.
Will the Phantom win Christine, played by petite, perfectly pitched Anna O'Byrne, who is reprising the role she played touring with the Phantom in 2009? Or will Meg, who has played second fiddle to Christine many times, finally attract the Phantom's attention? What? The Phantom has two women attracted to him? Only thespian and rock star freaks can draw such romantic attention.
This love triangle is surely a recipe for disaster, but my lips are sealed.
After so much melodrama, you'll need to find solace in comfort food. Fortunately places such as the renovated Middle Park Hotel, which is riding high on the Australian gastro pub trend - where humble hotels snap up top chefs - is well equipped to meet your dining requirements.
I loved the food served in this New York-style boutique hotel and the men at the 70m bar seemed to be happy with the 45 taps offering a huge range of beer. Popping up the stairs to check out the bedrooms, I noticed they each featured a locked X-rated drawer, to which you get a key if you stay. I'm guessing the drawer doesn't contain a Gideon Bible.
I couldn't investigate further because I'd rather spend the time discovering more of Melbourne. It's a wonderful city in which to eat, drink, shop, explore and enjoy sport.
If you love ancient treasures, make a beeline for the Tutankhamun and the Golden Age of the Pharaohs exhibit at the Melbourne Museum before it returns to Cairo. And make sure you walk around the city's artful laneways, where modern graffiti artists leave their mark.
New laneways are being developed and great cafes opening all the time. I'm impressed by a new concept, based on bygone days, in Somerset Place. The Captains of Industry Gentleman's Outfitter is on the first floor of an old watch factory and is home to a tailor, a shoemaker, a barber and a smart cafe.
How do all these cafes survive? Maria Paoli, who runs the Evolving Success coffee tour, says they don't. The established cafes, such as Brunetti's (best macarons I've tasted outside of Paris), will endure but there isn't room for everyone.
If you're brave enough to open one, the coffee had better be good as Melburnians have sophisticated palates. Maria, who knows her beans and helps baristas prepare for competitions, says New Zealand led Australia in the art of a great roast and perfect extraction as our baristas went to overseas competitions first.
We have since shared knowledge with our cousins across the Tasman. Pity they won't share their mineral wealth with us.
So take plenty of cash with you - or at least enough to see a melancholy but magnificent stage show and buy a cup of coffee afterwards.
CHECKLIST
Getting there: Qantas offers three daily services to Melbourne from Auckland and a daily service from Wellington. Ring Qantas 0800 767 400 or contact your travel agent.
Where to stay: Sofitel Melbourne on Collins. You can book theatre packages to Love Never Dies.
Where to eat: Middle Park Hotel.
What to do: Visit Melbourne Museum or take a coffee tour.
Further information: See visitmelbourne.com.
Carol Smith was taken to Love Never Dies by Tourism Victoria.