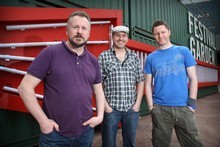 In a programme as busy as that of the Auckland Arts Festival, productions can have only a couple of sentences to sell themselves to the public.
For Irish theatre group Brokentalkers, performing their Silver Stars show at the Town Hall tonight, that can be problematic.
The show consists of a chorus of gay men who perform songs based on other interviews with gay men about the difficulty of being gay in Catholic Ireland - but don't pigeonhole it.
"One of the things we say persistently is that it's not a gay show. It's actually about complicated things, like how to survive being rejected by your community," says co-director Gary Keegan.
"On the other hand, you want gay people to know that it's their show as well. But it's a show that straight people can get an awful lot from too."
Composer and writer Sean Millar came up with the idea for the production after an older gay friend shared his life story on a late night road trip across Ireland.
"At one point I was laughing my head off. And then at another point I was crying my eyes out. It was so moving and powerful. His life is like a novel, with incredible chapter turns," said Millar.
He later realised he knew many people who had lived similarly turbulent lives because of their sexuality, and slowly recorded their stories.
Theatre group Brokentalkers, led by Keegan and Feidlim Cannon, then set about finding gay men for the largely amateur chorus that would perform live music in the show.
That proved difficult at times.
"You've got these three straight guys turning up and saying 'tell us your story'. So it took a while for them to trust us," Cannon said.
But once the show was up and running it proved a success, touring to New York and earning praise for the emotional honesty and quiet dignity of its stories.
An important song in the production is called I Love You More Than God - the words one interviewee's mother told him - and Millar said it was a perfect example of why the interviews spoke to a wide audience.
"I'm not a gay man, but when I heard that it made my hair stand on end - my love for you is more important than your sexuality. Which for her was a really big deal because she's very religious.
"Everyone who hears that is affected, because everyone has a mother."
Because many of the men interviewed chose to leave Ireland rather than stifle who they were, the production also touches on Ireland's history of emigration,.
"But it's also about those that stayed in Ireland, and worked really hard to make being a gay man a lot easier in Ireland in 2011 than it was in 1971," Mr Cannon said.
And while many of the stories in the show were of discrimination and struggle, their sum total was surprisingly uplifting.
"The show isn't saying it's awful being gay," said Mr Millar.
"It's actually saying that being like this forced me to follow this very, very interesting path in life."
By Nicholas Jones

Email

Nicholas